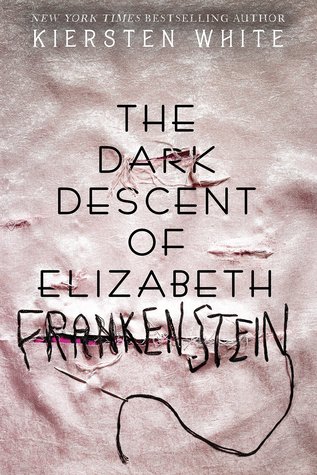 The Dark Descent of Elizabeth Frankenstein
By Kiersten White Source
Purchased
Published by
Delacorte Press
on September 25, 2018
Rating:

Elizabeth Lavenza hasn't had a proper meal in weeks. Her thin arms are covered with bruises from her "caregiver," and she is on the verge of being thrown into the streets . . . until she is brought to the home of Victor Frankenstein, an unsmiling, solitary boy who has everything--except a friend.

Victor is her escape from misery. Elizabeth does everything she can to make herself indispensable--and it works. She is taken in by the Frankenstein family and rewarded with a warm bed, delicious food, and dresses of the finest silk. Soon she and Victor are inseparable.

But her new life comes at a price. As the years pass, Elizabeth's survival depends on managing Victor's dangerous temper and entertaining his every whim, no matter how depraved. Behind her blue eyes and sweet smile lies the calculating heart of a girl determined to stay alive no matter the cost . . . as the world she knows is consumed by darkness.
This was my pick for a recent book club, and I was really excited to read it. I haven't always loved Kiersten White's books but I loved And I Darken, so I was eager to read this.
I've never read Frankenstein, and the discussion at book club led me to believe that I probably would have gotten more out of this if I had. But I liked not really knowing what was going to happen. I also liked how dark and violent the story was at times.
For some reason though, I couldn't get into this. I had zero emotional investment, and if it hadn't been my book club pick, I might not have finished it. As much as I wanted to love this, I felt bored so much of the time.
Others at book club really liked this book though, and we had a good discussion about it. It just wasn't for me.