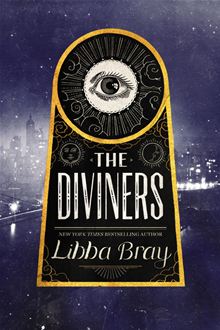 The Diviners
By Libba Bray Series:
The Diviners #1
Source
Purchased
Published by
Little
,
Brown Books for Young Readers
on September 18, 2012
Rating:

Evie O'Neill has been exiled from her boring old hometown and shipped off to the bustling streets of New York City—and she is pos-i-tute-ly ecstatic. It's 1926, and New York is filled with speakeasies, Ziegfeld girls, and rakish pickpockets. The only catch is that she has to live with her uncle Will and his unhealthy obsession with the occult.

Evie worries he'll discover her darkest secret: a supernatural power that has only brought her trouble so far. But when the police find a murdered girl branded with a cryptic symbol and Will is called to the scene, Evie realizes her gift could help catch a serial killer.

As Evie jumps headlong into a dance with a murderer, other stories unfold in the city that never sleeps. A young man named Memphis is caught between two worlds. A chorus girl named Theta is running from her past. A student named Jericho hides a shocking secret. And unknown to all, something dark and evil has awakened.
I love Libba Bray's books. The Gemma Doyle trilogy is one of my favourite series, and I loved Beauty Queens when I read it last year. Whenever I hear she has a new book coming out, I get excited about it.
I borrowed this initially from the library but wasn't able to read it before it was due back, so I ended up buying the e-book from the Kobo store.
I read on Libba Bray's website the other day that this is intended to be the first of a four-book series, and I absolutely can't wait to read more books set in this world!
The story takes place in the 1920s, where young Evie gets herself in trouble and her parents decide to send her to New York City to live with her uncle, who runs a museum of supernatural objects. It turns out Evie has an ability to read objects and find out things about the owner – in other words, she's a diviner. Evie has kept this ability a secret from people, but while her uncle assists the New York police with a murder investigation, it turns out that her ability may prove useful.
The murder turns out to be one in a series of murders, and Evie, her uncle, his assistant Jericho, and mysterious Sam are determined to get to the bottom of things.
I loved this book. It was fun and downright creepy at times, which of course was right up my alley. The murders are centered around someone named Naughty John, who was supposedly arrested and executed years earlier. The scenes where the murderer stalks or lures his victims are spooky, as is the nature of the murders, with missing body parts and references to the occult. I have been on a bit of a supernatural/horror streak lately, and this book pleasantly surprised me with its chills and scares. I really wasn't expecting it to be genuinely scary at times.
The setting was great, too. It was so fun to read this story during the flapper era, and Libba Bray seems to have gone to great care to include the slang and cultural references of that period. The writing was spectacular – just what I've come to expect from this author. The story didn't rush to its conclusion, but it didn't feel as though it dragged, either. I was again impressed with how Bray was able to weave the stories of so many characters into this book – she's done it in her other books that I've read  – and as I read the first third of the book and met each character, I knew that eventually they would be connected to each other and I enjoyed letting the story take its time to get there.
There are hints of romance throughout the book, but fortunately it is not the major focal point of the book (I don't like too much romance in my books). The insta-love that I see in other YA books is nicely absent here, too. Also, as this is part of a series as I mentioned above, I appreciated that the main story was wrapped up, but that there were things I learned about the characters that seemed to be set up nicely for another book in the series.
And those characters! I loved Evie's excitement and energy. She was a fun heroine, and she was funny. I actually laughed out loud while reading this a few times. I loved her chemistry with Sam (who she meets in the train station upon her arrival in New York City, and for reasons I won't spoil, decides she never wants to see again). While reading their dialogue, I was reminded of one of my favourite movies, It Happened One Night, with Claudette Colbert and Clark Gable. Sam reminded me  of Gable's character, and it was just so fun to read the scenes between Sam and Evie.
The other characters were intriguing: the poet Memphis, mysterious Jericho, the Ziegfeld girl Theta, Uncle Will, even Evie's 'plain' friend Mabel. I liked them all and I am really looking forward to reading more about Evie and her friends! I can't wait for the second book!
This is a major recommended read from me if you like any of the following: YA fiction, the supernatural, stories that take place in historical settings, and fun reads! Be warned that it's long (around 600 pages) but it's great!