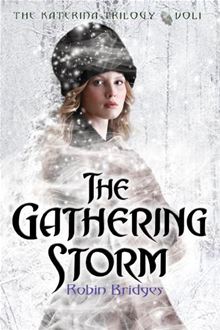 The Gathering Storm
By Robin Bridges Series:
Katerina #1
Source
Library
Published by
Delacorte Books for Young Readers
on January 10, 2012
Rating:

St. Petersburg, Russia, 1888. As she attends a whirl of glittering balls, royal debutante Katerina Alexandrovna, Duchess of Oldenburg, tries to hide a dark secret: she can raise the dead. No one knows. Not her family. Not the girls at her finishing school. Not the tsar or anyone in her aristocratic circle. Katerina considers her talent a curse, not a gift. But when she uses her special skill to protect a member of the Imperial Family, she finds herself caught in a web of intrigue.

An evil presence is growing within Europe's royal bloodlines—and those aligned with the darkness threaten to topple the tsar. Suddenly Katerina's strength as a necromancer attracts attention from unwelcome sources . . . including two young men—George Alexandrovich, the tsar's standoffish middle son, who needs Katerina's help to safeguard Russia, even if he's repelled by her secret, and the dashing Prince Danilo, heir to the throne of Montenegro, to whom Katerina feels inexplicably drawn.

The time has come for Katerina to embrace her power, but which side will she choose—and to whom will she give her heart?
This is the first e-book I checked out from the library using my new library card!
I was drawn to this book because of the supernatural element combined with historical fiction. Overall, I think it worked fairly well, and the second book in the series, The Unfailing Light, will be out this October. I will definitely be reading that to see how the events started in this book continue to play out.
Katerina has an ability, which she thinks of as a curse, to bring the dead back to life, making her a necromancer. She has kept this a secret her entire life, fearful that if anyone found out, she would be viewed as a monster.  She gets caught up in a power struggle between the dark and light power factions of the Russian court, and learns that her ability is not as secret as she might have thought.
I loved, loved, loved the setting. I don't know much about Russia and can't say that I've read many books that take place there, and the author has made it a very mystical, magical place for her story to unfold. It felt just right. The snow, the dark, the grand balls and parties, the history and folklore that are woven into the plot – it was wonderful and worked so well with the supernatural elements of the story.
I have to admit, though, that I was really confused at times about who the characters were, because the Russian names and nicknames were very unfamiliar to me, and I had to turn to earlier parts of the book to refresh my memory. This was especially confusing as there is a very large cast of characters, primary and secondary, in the story. That was a bit off-putting initially, but as I was drawn in to Katerina's world, it became a bit easier. But be warned that, if you're like me and occasionally multitask while reading,  you will need to pay attention as you read this one in order to keep track of everyone. No distractions!
Katerina was a strong, independent girl, given the time period. She wanted to become a doctor and wouldn't listen to anyone who told her that a woman's job was to be in the home. I liked that she was so determined to achieve this goal. At the same time, though, she was a regular 15-year-old girl, laughing and gossiping with her friends, and unsure how to respond to the attention she received from George Alexandrovich (the tsar's son), who seemed to always show up at just the right time, and Danilo, the prince of Montenegro and brother of one of her classmates. This love triangle wasn't really much of a triangle for me – I thought it was pretty clear who Katerina would want to be with from the beginning – but I enjoyed reading as it played out.
The book deals with death (and coming back from it), murder, dark arts, political power struggles and conspiracies, but is not really all that dark. To be honest, I was hoping the book would be a bit darker, but perhaps the second book will take things a bit further in that direction.
If you like historical fiction, I recommend this book. If you also like supernatural fiction, this book should be right up your alley.