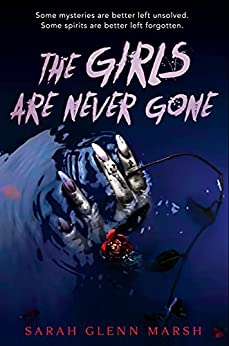 The Girls Are Never Gone
By Sarah Glenn Marsh Source
Library
Published by
Razorbill
on September 7, 2021
Rating:

Dare Chase doesn't believe in ghosts.

Privately, she's a supernatural skeptic. But publicly, she's keeping her doubts to herself—because she's the voice of Attachments, her brand-new paranormal investigation podcast, and she needs her ghost-loving listeners to tune in.

That's what brings her to Arrington Estate. Thirty years ago, teenager Atheleen Bell drowned in Arrington's lake, and legend says her spirit haunts the estate. Dare's more interested in the suspicious circumstances surrounding her death—circumstances that she believes point to a living culprit, not the supernatural. Still, she's vowed to keep an open mind as she investigates, even if she's pretty sure what she'll find.

But Arrington is full of surprises. Good ones like Quinn, the cute daughter of the house's new owner. And baffling ones like the threatening messages left scrawled in paint on Quinn's walls, the ghastly face that appears behind Dare's own in the mirror, and the unnatural current that nearly drowns their friend Holly in the lake. As Dare is drawn deeper into the mysteries of Arrington, she'll have to rethink the boundaries of what is possible. Because if something is lurking in the lake…it might not be willing to let her go.
I love haunted house stories, and as much as I might sometimes want to believe in some of the spookier things I read about being real, I just do not believe in ghosts, demons, etc. So the premise of this story – featuring a supernatural skeptic who wants to believe – definitely grabbed my interest.
I really liked the podcast angle, and warmed up to the characters pretty quickly (especially Waffles!). And the story did have some nice creepy moments. But I felt like it took so long for something spooky to actually happen, which left me feeling impatient as I read.
There were a bunch of twists and turns towards the end (maybe too many, for me) but this was a good YA horror read.