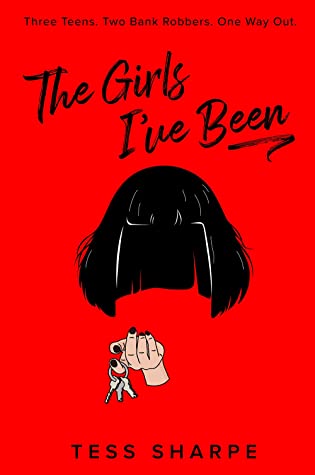 The Girls I've Been
By Tess Sharpe Source
Received from the publisher
Published by
G.P. Putnam's Sons Books for Young Readers
on January 26, 2021
Received from the publisher in exchange for an honest review. This does not affect my opinion of the book or the content of my review.
Rating:

Nora O'Malley's been a lot of girls. As the daughter of a con-artist who targets criminal men, she grew up as her mother's protégé. But when mom fell for the mark instead of conning him, Nora pulled the ultimate con: escape.

For five years Nora's been playing at normal. But she needs to dust off the skills she ditched because she has three problems:

#1: Her ex walked in on her with her girlfriend. Even though they're all friends, Wes didn't know about her and Iris.

#2: The morning after Wes finds them kissing, they all have to meet to deposit the fundraiser money they raised at the bank. It's a nightmare that goes from awkward to deadly, because:

#3: Right after they enter bank, two guys start robbing it.

The bank robbers may be trouble, but Nora's something else entirely. They have no idea who they're really holding hostage…
This was a really tense story in the present-day, but the time jumps didn't totally work for me. It lessened the tension for me of the present-day story, and I get that it was giving me some insight and filling the blanks in re: Nora's life, but I struggled with keeping my reading momentum going for this one due to the format.
That said, the story is pretty great, and I love the darkness and grittiness of Tess Sharpe's characters, particularly the girls.
I think Courtney Summers fans who haven't read anything by Tess Sharpe would really love her books. Recommended!