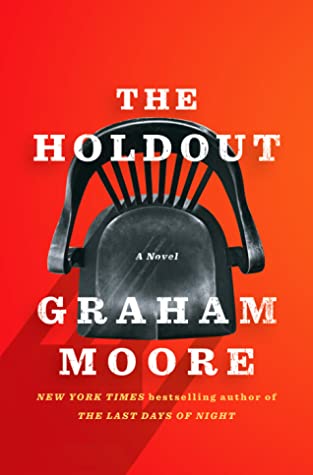 The Holdout
By Graham Moore Source
Purchased
Published by
Random House
on February 18, 2020
Rating:

In this twisty tale from Moore (The Sherlockian), the Academy Award-winning screenwriter of The Imitation Game, young juror Maya Seale is convinced that African American high school teacher Bobby Nock is innocent of killing the wealthy white female student with whom he appears to have been involved and persuades her fellow jurors likewise. Ten years later, a true-crime docuseries reassembles the jurors, and Maya, now a defense attorney, must prove her own innocence when one of them is found dead in Maya's room.
I'd heard really good things about this book, and I've been really into reading mysteries and thrillers lately. It had been a while though since I've read what I think of as a courtroom drama, which is partly how I would describe this book.
This book was such a page-turner! I got really into the two storylines being presented (Bobby Nock's trial and the jury's deliberations, and the present-day murder of one of the jurors when they reunite). I really enjoyed the way information was revealed in bits and pieces, with a glimpse into the other jurors' points of view, and I had a lot of fun trying to figure out what happened.
This was a fun, twisty read, and I was pleased to solve part of one mystery but not the other.