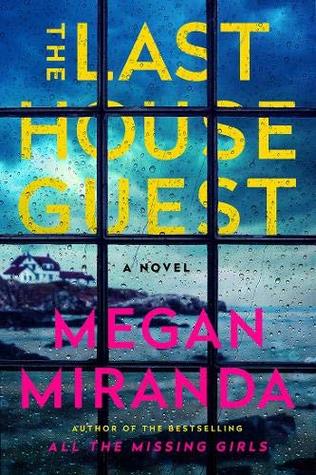 The Last House Guest
By Megan Miranda Source
Received from the publisher
Published by
Simon & Schuster
on June 18, 2019
Received from the publisher in exchange for an honest review. This does not affect my opinion of the book or the content of my review.
Rating:

Littleport, Maine, has always felt like two separate towns: an ideal vacation enclave for the wealthy, whose summer homes line the coastline; and a simple harbor community for the year-round residents whose livelihoods rely on service to the visitors.

Typically, fierce friendships never develop between a local and a summer girl—but that's just what happens with visitor Sadie Loman and Littleport resident Avery Greer. Each summer for almost a decade, the girls are inseparable—until Sadie is found dead. While the police rule the death a suicide, Avery can't help but feel there are those in the community, including a local detective and Sadie's brother, Parker, who blame her. Someone knows more than they're saying, and Avery is intent on clearing her name, before the facts get twisted against her.

Another thrilling novel from the bestselling author of All the Missing Girls and The Perfect Stranger, Megan Miranda's The Last House Guest is a smart, twisty read with a strong female protagonist determined to make her own way in the world.
I've really enjoyed the previous Megan Miranda books I've read (All the Missing Girls; The Perfect Stranger), so this new one was very high on my summer TBR.
One of my favourite things about this book was the setting: a small harbour town that draws in the summer holiday-goers, which empties out in the off-season. The divide between those who live and work there year-round, and those who only come for the summer leads to a sort of social and economical hierarchy, and it was interesting to see the way Avery straddled those worlds, as a local who became best friends with the wealthy Sadie (and employee of her family).
The mystery was really well done! I enjoyed the way everything unravelled. The story moves back and forth in time, which did confuse me initially, but the way it allowed for the gradual reveal of information kept me questioning what I thought I knew and guessing until the end!
This was another really good, satisfying mystery from Megan Miranda. Add it to your summer TBR stack!