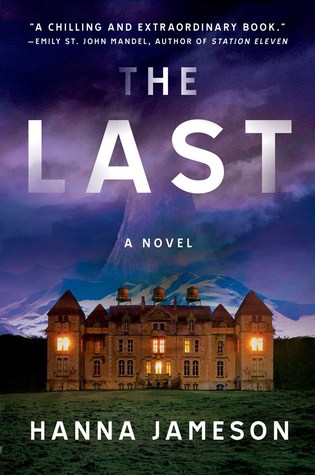 The Last
By Hanna Jameson Source
Received from the publisher
Published by
Atria Books
on April 9, 2019
Received from the publisher in exchange for an honest review. This does not affect my opinion of the book or the content of my review.
Rating:

Jon thought he had all the time in the world to respond to his wife's text message: I miss you so much. I feel bad about how we left it. Love you. But as he's waiting in the lobby of the L'Hotel Sixieme in Switzerland after an academic conference, still mulling over how to respond to his wife, he receives a string of horrifying push notifications. Washington, DC has been hit with a nuclear bomb, then New York, then London, and finally Berlin. That's all he knows before news outlets and social media goes black—and before the clouds on the horizon turn orange.

Now, two months later, there are twenty survivors holed up at the hotel, a place already tainted by its strange history of suicides and murders. Those who can't bear to stay commit suicide or wander off into the woods. Jon and the others try to maintain some semblance of civilization. But when the water pressure disappears, and Jon and a crew of survivors investigate the hotel's water tanks, they are shocked to discover the body of a young girl.

As supplies dwindle and tensions rise, Jon becomes obsessed with investigating the death of the little girl as a way to cling to his own humanity. Yet the real question remains: can he afford to lose his mind in this hotel, or should he take his chances in the outside world?
I was drawn to this book because I'm intrigued by apocalypse and survival stories. I also loved the novels mentioned in the blurb (Annihilation and The Girl With All the Gifts). It also sounded as though it contained a mystery, set against the backdrop of nuclear devastation.
Unfortunately, as much as I tried to like this book, it wasn't for me. While the story was intriguing at first, the "mystery" that lured me in was not as prominent as the synopsis made it seem.
The characters were tiresome and felt like sketches of characters, making it very difficult for me to care about them or what happened to them, or to even recall who was who. The story dragged on, characters did things that frustrated me, and while there was occasionally a nice turn of phrase or interesting occurrence, I only kept reading because I wanted to know if the mystery would ever get solved. View Spoiler » It did, and it did so in a way that I struggled to accept as remotely plausible (Nathan's dad?? Small world, I guess), and that also resulted in a murder, because why not. « Hide Spoiler
So as much as I wanted to enjoy this one, sadly, it just wasn't for me.