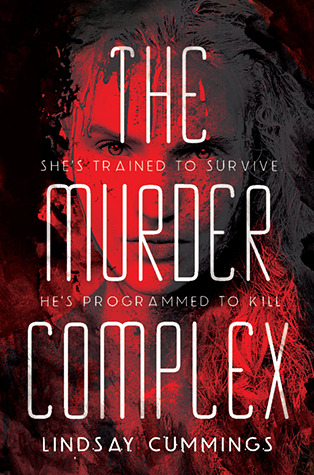 The Murder Complex
By Lindsay Cummings Series:
The Murder Complex #1
Source
Received from the publisher
on June 10, 2014
Received from the publisher in exchange for an honest review. This does not affect my opinion of the book or the content of my review.
Rating:

Summary and cover image from Goodreads:

An action-packed, blood-soaked, futuristic debut thriller set in a world where the murder rate is higher than the birthrate. For fans of Moira Young's Dust Lands series, La Femme Nikita, and the movie Hanna.

Meadow Woodson, a fifteen-year-old girl who has been trained by her father to fight, to kill, and to survive in any situation, lives with her family on a houseboat in Florida. The state is controlled by The Murder Complex, an organization that tracks the population with precision.

The plot starts to thicken when Meadow meets Zephyr James, who is—although he doesn't know it—one of the MC's programmed assassins. Is their meeting a coincidence? Destiny? Or part of a terrifying strategy? And will Zephyr keep Meadow from discovering the haunting truth about her family?

Action-packed, blood-soaked, and chilling, this is a dark and compelling debut novel by Lindsay Cummings.
This was one my most anticipated 2014 reads, because it sounded like an exciting, action-packed read. That turned out to be true, for the most part.
What I really enjoyed about this book, and what set it apart from others I've read, was that it was not only action-packed, but it didn't shy away from the violence of the world author Lindsay Cummings created. So often I'll read a story where I'm told how dangerous life is and how violent the world has become, but I don't feel that I see that in the story itself. That's not the case here! Cummings has created a world full of violence and danger, where simply being outdoors can be a risk, and I loved that she was not afraid to show the reader just how badly things could turn out for her characters.
The story took its time setting up the world and getting going, and I admit to being confused at first. But I liked the twists and turns that the story took, and liked the way Meadow and Zephyr were initially attracted to each other but then tried to fight it, in light of certain events that take place. The story is told in alternating chapters, from Meadow and Zephyr's points of view, and while this worked as far as moving the story along, this was another case where the two voices were not distinguishable from each other.
Some interesting characters who were introduced later in the book were, sadly, underdeveloped. There was potential for these characters to really grab my attention and be an exciting part of the story, but perhaps that will happen in the sequel.
As for the ending, it bothered me somewhat because the story felt unresolved. There's clearly a second book on the way, which I'm looking forward to reading, but I wish that the ending had been more satisfying.
Overall, this was a fun, exciting read that pulled me in right away with its action and violence. It wasn't a perfect read, but I enjoyed it and recommend it!