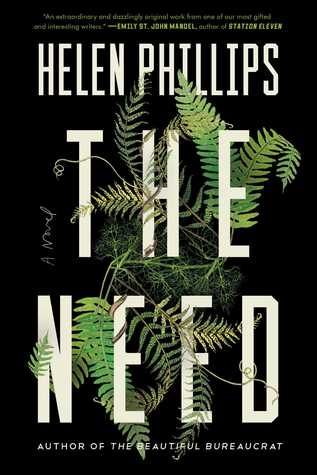 The Need
By Helen Phillips Source
Purchased
Published by
Simon & Schuster
on July 9, 2019
Rating:

When Molly, home alone with her two young children, hears footsteps in the living room, she tries to convince herself it's the sleep deprivation. She's been hearing things these days. Startling at loud noises. Imagining the worst-case scenario. It's what mothers do, she knows.

But then the footsteps come again, and she catches a glimpse of movement.

Suddenly Molly finds herself face-to-face with an intruder who knows far too much about her and her family. As she attempts to protect those she loves most, Molly must also acknowledge her own frailty. Molly slips down an existential rabbit hole where she must confront the dualities of motherhood: the ecstasy and the dread; the languor and the ferocity; the banality and the transcendence as the book hurtles toward a mind-bending conclusion.

In The Need, Helen Phillips has created a subversive, speculative thriller that comes to life through blazing, arresting prose and gorgeous, haunting imagery. Anointed as one of the most exciting fiction writers working today, The Need is a glorious celebration of the bizarre and beautiful nature of our everyday lives.
I didn't have this book on my radar initially, but suddenly it seemed like it was everywhere. The synopsis intrigued me and I wound up buying it for my Kobo.
This book took a turn early on that was not necessarily surprising, but I'm glad I went in unspoiled and I really liked it.
I can't say that I feel like I totally understood this book, but it was a fascinating, propulsive read. I got through this one quickly, unable to put it down.