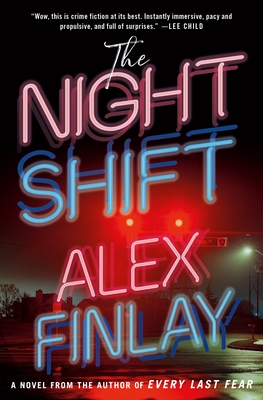 The Night Shift
By Alex Finlay Source
Received from the publisher
Published by
Minotaur Books
on March 1, 2022
Received from the publisher in exchange for an honest review. This does not affect my opinion of the book or the content of my review.
Rating:

It's New Year's Eve 1999. Y2K is expected to end in chaos: planes falling from the sky, elevators plunging to earth, world markets collapsing. A digital apocalypse. None of that happens. But at a Blockbuster Video in Linden, New Jersey, four teenage girls working the night shift are attacked. Only one survives. Police quickly identify a suspect who flees and is never seen again.

Fifteen years later, in the same town, four teenage employees working late at an ice cream store are attacked, and again only one makes it out alive.

Both surviving victims recall the killer speaking only a few final words... "Goodnight, pretty girl."

In the aftermath, three lives intersect: the survivor of the Blockbuster massacre who's forced to relive her tragedy; the brother of the original suspect, who's convinced the police have it wrong; and the FBI agent, who's determined to solve both cases. On a collision course toward the truth, all three lives will forever be changed, and not everyone will make it out alive.

Twisty, poignant, and redemptive, The Night Shift is a story about the legacy of trauma and how the broken can come out on the other side, and it solidifies Alex Finlay as one of the new leading voices in the world of thrillers.
I am pretty much always in the mood to read a thriller of some kind, and I went into this looking for a fast-paced, exciting read. While I was initially intrigued by the murders, I predicted the culprit's identity and motive so early on that it was frustrating and almost painful waiting for the characters in the story to catch up and put the pieces together.
I also didn't think this was as twisty, suspenseful, or thrilling as the synopsis would have me believe, and in fact I thought some of the story was so similar to other, average books like this I've read View Spoiler » such as the culprit being an older man involved with younger girls who kills them when they do something he doesn't like « Hide Spoiler. As someone who reads a bunch of mysteries and thrillers, it didn't feel like there was anything new or different here.
However, it was a somewhat entertaining read, and if you don't read a ton of thrillers, this might be a good one to check out!