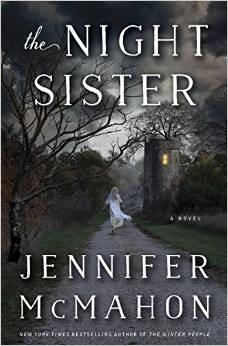 The Night Sister
By Jennifer McMahon Source
Received from the publisher
Published by
Doubleday
on August 4, 2015
Received from the publisher in exchange for an honest review. This does not affect my opinion of the book or the content of my review.
Rating:

Once the thriving attraction of rural Vermont, the Tower Motel now stands in disrepair, alive only in the memories of Amy, Piper, and Piper's kid sister, Margot. The three played there as girls until the day that their games uncovered something dark and twisted in the motel's past, something that ruined their friendship forever.

Now adult, Piper and Margot have tried to forget what they found that fateful summer, but their lives are upended when Piper receives a panicked midnight call from Margot, with news of a horrific crime for which Amy stands accused. Suddenly, Margot and Piper are forced to relive the time that they found the suitcase that once belonged to Silvie Slater, the aunt that Amy claimed had run away to Hollywood to live out her dream of becoming Hitchcock's next blonde bombshell leading lady. As Margot and Piper investigate, a cleverly woven plot unfolds—revealing the story of Sylvie and Rose, two other sisters who lived at the motel during its 1950s heyday. Each believed the other to be something truly monstrous, but only one carries the secret that would haunt the generations to come.
This is an ARC that I've had on my shelves for a few years. I finally got around to reading it at the end of my vacation this summer, because it seemed kind of creepy – and with summer ending, I was really in the mood for a creepy book!
At times this was a suspenseful read, but I didn't find it scary. And once I figured out what was going on (fairly early), the rest of the book became predictable.
On the positive side, I really liked the way the story moved back and forth in time, and I was invested enough in a couple of the characters to need to know how everything turned out.
But overall, this book was just okay for me.