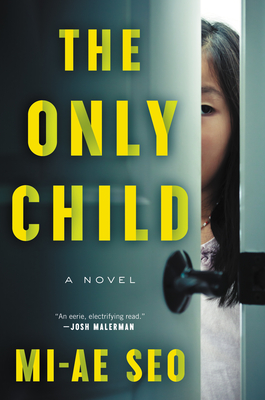 The Only Child
By Mi-ae Seo, Jung Yewon (translator) Source
Library
Published by
Ecco
on February 11, 2020
Rating:

Criminal psychologist Seonkyeong receives an unexpected call one day. Yi Byeongdo, a serial killer whose gruesome murders shook the world, wants to be interviewed. Yi Byeongdo, who has refused to speak to anyone until now, asks specifically for her. Seonkyeong agrees out of curiosity.

That same day Hayeong, her husband's eleven-year-old daughter from a previous marriage, shows up at their door after her grandparents, with whom she lived after her mother passed away, die in a sudden fire. Seonkyeong wants her to feel at home, but is gradually unnerved as the young girl says very little and acts strangely.

At work and at home, Seonkyeong starts to unravel the pasts of the two new arrivals in her life and begins to see startling similarities. Hayeong looks at her the same way Yi Byeongdo does when he recounts the abuse he experienced as a child; Hayeong's serene expression masks a temper that she can't control. Plus, the story she tells about her grandparents' death, and her mother's before that, deeply troubles Seonkyeong. So much so that Yi Byeongdo picks up on it and starts giving her advice.

Written with exquisite precision and persistent creepiness, The Only Child is psychological suspense at its very best.
I was very excited to read this book! It's another one that I'd heard lots about, so I was eager to get a copy from the library as soon as I could.
I found this a bit slow to start, but then I really got into it. Overall I didn't love this one, but I liked it. I thought the pacing was kind of off-kilter throughout, and for a short book, there were several moments where nothing seemed to be happening.
But the premise certainly drew me in, and I liked the way things came together in the end. But I'm glad this was one I picked up through the library rather than one I purchased.