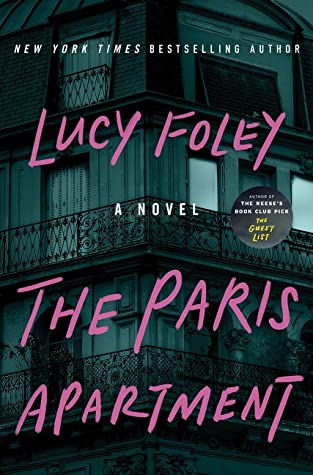 The Paris Apartment
By Lucy Foley Source
Purchased
Published by
William Morrow
on February 22, 2022
Rating:

Jess needs a fresh start. She's broke and alone, and she's just left her job under less than ideal circumstances. Her half-brother Ben didn't sound thrilled when she asked if she could crash with him for a bit, but he didn't say no, and surely everything will look better from Paris. Only when she shows up – to find a very nice apartment, could Ben really have afforded this? – he's not there.

The longer Ben stays missing, the more Jess starts to dig into her brother's situation, and the more questions she has. Ben's neighbors are an eclectic bunch, and not particularly friendly. Jess may have come to Paris to escape her past, but it's starting to look like it's Ben's future that's in question.

The socialite – The nice guy – The alcoholic – The girl on the verge – The concierge

Everyone's a neighbor. Everyone's a suspect. And everyone knows something they're not telling.
After reading this, I think I've got to admit that Lucy Foley's books just are not for me.
While I enjoyed The Hunting Party, I had the same issues with The Paris Apartment that I did with The Guest List: annoyingly, nearly every chapter ends on a 'cliffhanger' (which is usually resolved immediately at the start of the next chapter and which turns out to be completely innocuous); flat, empty characters; and a sense that the author is trying to make everything so twisty that it comes off as very convoluted and predictable at the same time.
I liked the setting and I finished the book but this was not a standout for me. If you enjoyed The Guest List and want something similar, you'll likely enjoy The Paris Apartment but this book was not for me.