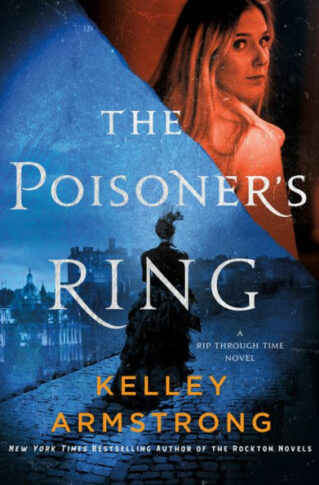 The Poisoner's Ring
By Kelley Armstrong Series:
A Rip Through Time #2
Source
Received from the publisher
Published by
Minotaur Books
on May 23, 2023
Received from the publisher in exchange for an honest review. This does not affect my opinion of the book or the content of my review.
Rating:

Edinburgh, 1869: Modern-day homicide detective Mallory Atkinson is adjusting to her new life in Victorian Scotland. Her employers know she's not housemaid Catriona Mitchell―even though Mallory is in Catriona's body―and Mallory is now officially an undertaker's assistant. Dr. Duncan Gray moonlights as a medical examiner, and their latest case hits close to home. Men are dropping dead from a powerful poison, and all signs point to the grieving widows… the latest of which is Gray's oldest sister.

Poison is said to be a woman's weapon, though Mallory has to wonder if it's as simple as that. But she must tread carefully. Every move the household makes is being watched, and who knows where the investigation will lead.
I really enjoyed book one in this series last year, and was so excited for this sequel!
I still really loved the setting (Victorian-era Scotland) and reading about Mallory-as-Catriona figuring out the time period she found herself in, but I didn't find the mystery as compelling or engaging as the mystery in book one.
I enjoyed getting to see more of the other characters though, and learn more about their backstories, particulary Dr. Grey and his sister Isla, and I'm looking forward to the next installment in the series!