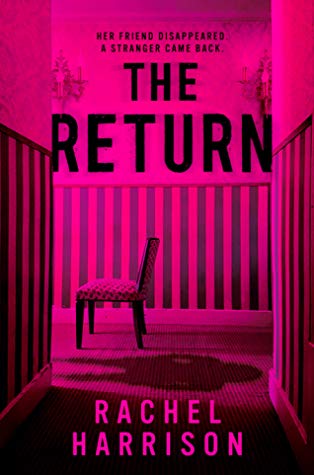 The Return
By Rachel Harrison Source
Received from the publisher
Published by
Berkley
on March 24, 2020
Received from the publisher in exchange for an honest review. This does not affect my opinion of the book or the content of my review.
Rating:

An edgy and haunting debut novel about a group of friends who reunite after one of them has returned from a mysterious two-year disappearance.

Julie is missing, and the missing don't often return. But Elise knows Julie better than anyone, and she feels in her bones that her best friend is out there, and that one day she'll come back. She's right. Two years to the day that Julie went missing, she reappears with no memory of where she's been or what happened to her.
This was one of my highly-anticipated 2020 reads! That eye-catching cover and intriguing synopsis grabbed me as soon as I first heard of this book. I was beyond excited to receive an e-ARC from the publisher and couldn't wait to dive into this one.
I loved this book! It was such an interesting look at friendship and shared history, and I loved the dynamic among the group of four. The mystery itself behind Julie's disappearance and then reappearance had a twist that I hadn't anticipated from the synopsis, and I think readers are split on whether they liked that element of the story or not, but I was definitely the target reader for this kind of book!
This was a really quick read for me because I was pulled in by the strangeness of everything, from the hotel to its staff to Julie's behaviour, and everything seemed just 'off' enough to create an unsettling atmosphere that only became more pronounced as I read. I didn't want to put this book down as soon as I started. And while I do feel like things were a bit rushed in the end, given all the buildup, I truly enjoyed this book.
It was one of the few things I've been able to read and properly lose myself in and forget, temporarily, about what's going on in the world right now. The Return is one of my favourite reads so far this year – highly recommended!