By Ann Brashares
Source: Purchased
My Rating: 4 / 5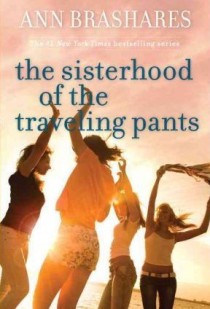 This book was selected for the inaugural Sisterhood of the Traveling Book Club, which I blogged about earlier. Because Kathy is going to host our book club discussion, I'm going to keep my review here short and sweet.
Goodreads summary:
FOUR VERY DIFFERENT FRIENDS. ONE PAIR OF MAGICAL PANTS. AND A SUMMER APART …

We, the Sisterhood, hereby instate the following rules to govern the use of the Traveling Pants:

1. You must never wash the Pants.

2. You must never double-cuff the Pants. It's tacky. There will never be a time when this will not be tacky.

3. You must never say the word "phat" while wearing the Pants. You must also never think "I am fat" while wearing the Pants.

4. You must never let a boy take off the Pants (although you may take them off yourself in his presence).

5. You must not pick your nose while wearing the Pants. You may, however, scratch casually your nostril while really kind of picking.

6. Upon our reunion, you must follow the proper procedures for documenting your time in the Pants.

7. You must write to your Sisters throughout the summer, no matter how much fun you are having without them.

8. You must pass the Pants along to your Sister according to the specifications set down by the Sisterhood. Failures to comply will result in a sever spanking upon our reunion.

9. You must not wear the Pants with a tucked-in shirt and belt. See rule #2.

10. Remember: Pants = love. Love your pals. Love yourself.
I saw the movie based on this book years ago and loved it, and I'm really happy that I got to read the book after all this time!
I liked all four girls, but the one I really found myself identifying with was Lena because we're both shy and anxious. I totally understood her wanting to avoid talking to Kostos when she senses her grandmother trying to push them together! The scene where they're at the party together and she puts out all the signs of wanting to be left alone reminded me of ME!
I really liked this story. It was a fabulous summer read, and it was really easy to like each of the girls, and to get caught up in all of their stories, because Brashares doesn't linger too long on any one of them. I found that this book moved very quickly, and at times actually would have preferred to spend more time on some of the plot points.
I found something about each of the girls that I could identify with, and they all felt like very distinct people to me. Some other characters were not really all that developed. I would have liked to learn more about Carmen's family, for example, and for a love interest, I didn't think Kostos was all that well developed of a character either.
Overall though, this was a really enjoyable read, and now I want to watch the movie and then read the sequel!