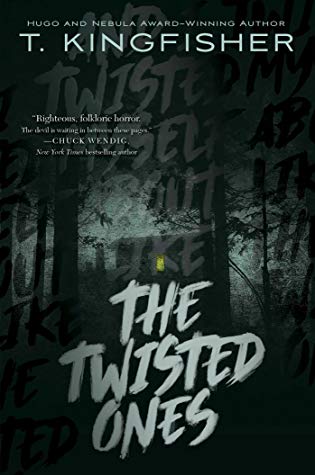 The Twisted Ones
By T. Kingfisher Source
Library
Published by
Gallery / Saga Press
on October 1, 2019
Rating:

When Mouse's dad asks her to clean out her dead grandmother's house, she says yes. After all, how bad could it be?

Answer: pretty bad. Grandma was a hoarder, and her house is stuffed with useless rubbish. That would be horrific enough, but there's more—Mouse stumbles across her step-grandfather's journal, which at first seems to be filled with nonsensical rants…until Mouse encounters some of the terrifying things he described for herself.

Alone in the woods with her dog, Mouse finds herself face to face with a series of impossible terrors—because sometimes the things that go bump in the night are real, and they're looking for you. And if she doesn't face them head on, she might not survive to tell the tale.
This premise caught my attention right away. I love a creepy story, and what's creepier than a house in the woods where things go bump in the night?
I was pulled into this book at first, and it some good creepy moments, but as the story went on and more was revealed, it lost its scare factor for me. And the reveal wasn't all that interesting or exciting to me, unfortunately.
I really liked the main character though, and the ending was fairly satisfying. So I'm interested in checking out T. Kingfisher's other works.