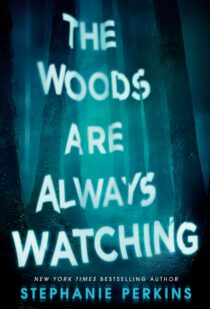 The Woods Are Always Watching
By Stephanie Perkins Source
Purchased
Published by
Dutton Books for Young Readers
on August 31, 2021
Rating:

Best friends Neena and Josie spent high school as outsiders, but at least they had each other. Now, with college and a two-thousand-mile separation looming on the horizon, they have one last chance to be together—a three-day hike deep into the woods of the Pisgah National Forest.

Simmering tensions lead to a detour off the trail and straight into a waking nightmare … and then into something far worse. Something that will test them in horrifying ways.

Stephanie Perkins, the bestselling author of There's Someone Inside Your House, returns with a heart-stopping, gut-wrenching novel about friendship, survival, and navigating unmarked paths even as evil watches from the shadows.
I had really high hopes for this book, and it was one of most-anticipated reads.
I had some quibbles with the book that seem to be pretty common, based off a glance at Goodreads, but for the most part they are not things that bothered me too much.
First though, I think I found this book really creepy because I am definitely not an outdoorsy person. I appreciate nature from the comfort and safety of my home, and camping both scares and annoys me. So I personally find outdoor survival type stories to be really intense and creepy, so I generally enjoy reading them.
If that doesn't sound like a good reading experience for you, you might not love this book. The bulk of the story is the Neena and Josie out in the wilderness camping and hiking, and so much goes wrong in terms of their adventure before anything that's more 'horror story' actually happens, so while I went into this expecting more of a horror story than a survival story, I am mostly okay with the fact that it is the opposite.
When we do finally get to the horror story part, which was more or less the type of thing I expected based on the synopsis, it really is such a small part of the story. View Spoiler » The villains are very stereotypical and we definitely don't spend much time on them or their motivations. That's fine with me since I thought the story was more about the girls and their friendship, and how their own conflict impacts their experience and helps them pull through. Also, the bear at the end felt super predictable and a little ridiculous. « Hide Spoiler
The things that mostly irked me about the book were the abrupt ending, and the length. This book was short! My hardcover was not even 300 pages. It really felt like a lot of set up that didn't totally pay off.
So while I liked this book, it had some disappointing elements for me. But it was a good kick off to my spooky season reading.