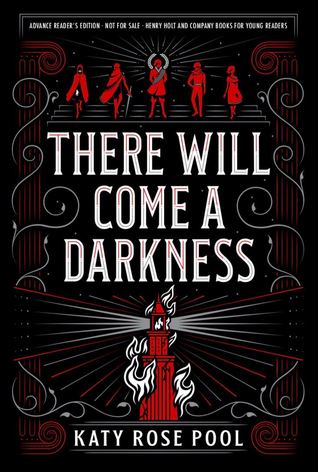 There Will Come A Darkness
By Katy Rose Pool Series:
The Age of Darkness #1
Source
Library
Published by
Henry Holt Books for Young Readers
on September 3, 2019
Rating:

The Age of Darkness approaches.
Five lives stand in its way.
Who will stop it... or unleash it?

For generations, the Seven Prophets guided humanity. Using their visions of the future, they ended wars and united nations―until the day, one hundred years ago, when the Prophets disappeared.

All they left behind was one final, secret prophecy, foretelling an Age of Darkness and the birth of a new Prophet who could be the world's salvation . . . or the cause of its destruction. As chaos takes hold, five souls are set on a collision course:

A prince exiled from his kingdom.
A ruthless killer known as the Pale Hand.
A once-faithful leader torn between his duty and his heart.
A reckless gambler with the power to find anything or anyone.
And a dying girl on the verge of giving up.

One of them―or all of them―could break the world. Will they be savior or destroyer?
I loved the premise and cover for this one, and was definitely drawn in by a Six of Crows vibe at first.
But unlike SoC, the characters in this book are (mostly) not a crew or a group or anything, not at the beginning. We get to see them meet as their stories intertwine, and it was fun to see them all wind up so connected in the end.
But it's kind of a lot for the story to follow five characters, and when it wasn't my two favourites in the spotlight, my interest waned. I liked the world and the magic system, although I felt like I didn't learn enough about it, and I appreciated the twists in the story. But the book dragged for me at times (although it picked up in the end).
Overall, this was a pretty entertaining book, and I'm looking forward to the sequel.