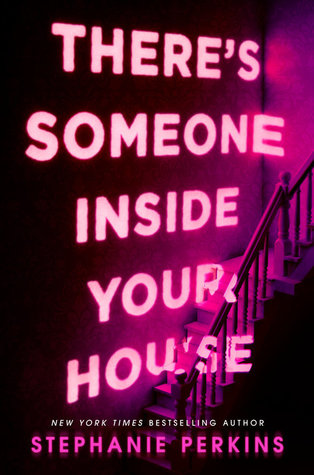 There's Someone Inside Your House
By Stephanie Perkins Source
Purchased
Published by
Dutton Books for Young Readers
on September 26, 2017
Rating:

Cover image and synopsis from Goodreads:

One-by-one, the students of Osborne High are dying in a series of gruesome murders, each with increasing and grotesque flair. As the terror grows closer and the hunt intensifies for the killer, the dark secrets among them must finally be confronted.

International bestselling author Stephanie Perkins returns with a fresh take on the classic teen slasher story that's fun, quick-witted, and completely impossible to put down.
I really enjoyed Stephanie Perkins' contemporary YA books (Anna and the French Kiss; Lola and the Boy Next Door; Isla and the Happily Ever After), and I know via her Twitter account that she's a big horror movie fan. So when I learned that she was working on a book described as a YA-slasher story, I was super excited!
First of all, I love this title and I love this cover. I also love the first chapter and the way the story opens. Elements of this book felt very reminiscent of the movie 'Scream', which I loved when it first came out. I feel like it would be spoiler-y to go into detail so I won't, and I'm certainly not a horror buff, but that movie immediately came to mind while I read this.
While this book had a few violent scenes, as you would expect from a story about a bunch of murders, it wasn't over the top or super gory, in my opinion. So I think if you're squeamish about that sort of thing, you can still read and enjoy this (you just might want to skim some paragraphs).
I liked the romance well enough, but was a little underwhelmed by the book's ending, and the killer's identity.
I definitely enjoyed this, and stayed up past my bedtime to finish reading. If you're looking for a fall/Halloween read, but don't want a full-on horror story, check this one out!