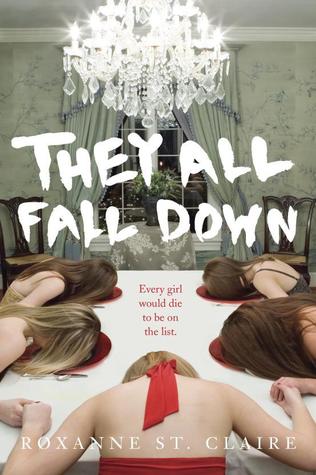 They All Fall Down
By Roxanne St. Claire Source
Library
on October 14, 2014
Rating:

Cover image and summary from Goodreads:

Pretty Little Liars meets Final Destination in this YA psychological thriller that will have readers' hearts racing right till the very end!

Every year, the lives of ten girls at Vienna High are transformed.

All because of the list.

Kenzie Summerall can't imagine how she's been voted onto a list of the hottest girls in school, but when she lands at number five, her average life becomes dazzling. Doors open to the best parties, new friends surround her, the cutest jock in school is after her.

This is the power of the list. If you're on it, your life changes.

If you're on it this year? Your life ends.

The girls on the list have started to die, one by one. Is it a coincidence? A curse? Or is the list in the hands of a killer?

Time is running out for Kenzie, but she's determined to uncover the deadly secret of the list...before her number's up.
I was drawn to this book because of its description. It sounded like a 'me' book. I love a good mystery!
There were a lot of things about this book that I liked: Kenzie, her BFF Molly, the love interest Levi, the writing and pacing, and the mystery of course! Even the things that I didn't love about the story (some of the secondary characters felt very stereotypical, and I didn't like Josh, the popular guy who is into Kenzie once she makes the list) could be overlooked because I was having so much fun reading this one.
However, I could not overlook the ending: the explanation behind the deaths didn't work for me. I don't want to spoil anything , so I'll just say that it could have been intriguing had it been expanded upon and given much more space in the book to do that. Instead, it just seemed so out there and far-fetched.
I also couldn't tell from the ending if there's supposed to be a sequel, or if it's a standalone (as I thought it was). It seems like the door is open for another story about these characters, but Goodreads doesn't seem to indicate that it's part of a series. If there was another book, though, I think I'd read it.
So overall, this was a really fun mystery that kept me up past my bedtime to finish, although the ending was off for me. Still, I'd recommend it, especially for YA mystery lovers.