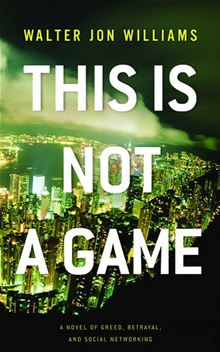 This Is Not A Game
By Walter Jon Williams Series:
Dagmar #1
Source
Purchased
Published by
Orbit
on March 24, 2009
Rating:

Once upon a time, there were four of them. And though each was good at a number of things, all of them were very good at games...

Dagmar is a game designer trapped in Jakarta in the middle of a revolution. The city is tearing itself apart around her and she needs to get out. Her boss Charlie has his own problems — 4.3 billion of them, to be precise, hidden in an off-shore account.
Austin is the businessman — the VC. He's the one with the plan and the one to keep the geeks in line.

BJ was there from the start, but while Charlie's star rose, BJ sank into the depths of customer service. He pads his hours at the call-center slaying on-line orcs, stealing your loot, and selling it on the internet.

But when one of them is gunned down in a parking lot, the survivors become players in a very different kind of game. Caught between the dangerous worlds of the Russian Mafia and international finance, Dagmar must draw on all her resources — not least millions of online gamers — to track down the killer. In this near-future thriller, Walter Jon Williams weaves a pulse-pounding tale of intrigue, murder, and games where you don't get an extra life.
I think I was drawn to this book because I loved Ready Player One, and when I read this book's premise, I was reminded of that book.
This book introduced me to the ARG (Alternate Reality Game). You can read more detail about it on Wikipedia, but as I learned while reading this book, an ARG is an interactive game in which players from all over the world solve various multi-media puzzles, and while the game creators have a goal or conclusion for the players to work towards, aspects of the game may change through the course of play. Collaboration between players is important too.
So against that backdrop, the reader meets Dagmar, who writes ARG games for her friend Charlie's company. Dagmar winds up stranded in Jakarta, in the midst of some sort of uprising, and she turns to her ARG gamers as a resource to help her escape. When she returns to the U.S., she gets right back to work for the launch of a new ARG game. However, her friend Austin is shot in the parking lot. Dagmar suspects that the shooter was after Charlie, who is extraordinarily wealthy, and once again turns to the ARG players to help unravel the mystery.
There were some interesting debates about the game vs. reality and whether they should use the game to help solve a crime, which I found very interesting. Unfortunately, while I enjoyed the story, I didn't really connect with it. It was a fun read, but it didn't stay with me.
I recommend it because I was fascinated by the ARG, which was totally new to me, and the parts of the book that I liked the best involved the ARG gamers and the help they provided to Dagmar. I wish I had connected a bit more with the characters, gotten to know them better, but it was still an enjoyable read.