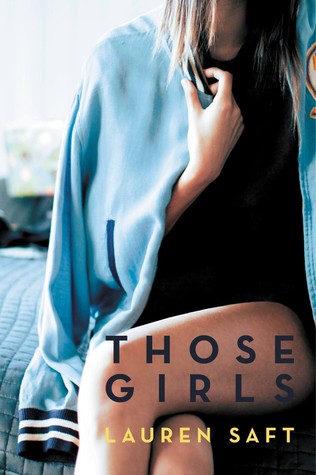 Those Girls
By Lauren Saft Source
Library
Published by
Poppy
on June 9, 2015
Rating:

Junior year, the suburbs of Philadelphia. Alex, Mollie and Veronica are those girls: they're the best of friends and the party girls of the school. But how well does everybody know them--and really, how well do they know one another? Alex is secretly in love with the boy next door and has joined a band--without telling anyone. Mollie suffers from a popular (and possibly sociopathic) boyfriend, as well as a serious mean streak. And Veronica just wants to be loved--literally, figuratively, physically....she's not particular. Will this be the year that bonds them forever....or tears them apart for good?

Lauren Saft masterfully conveys what goes on in the mind of a teenage girl, and her debut novel is raw, honest, hilarious, and thought-provoking, with a healthy dose of heart.
I can't quite remember what made me put this book on my TBR, but it's been there for a few years. It doesn't have great reviews on Goodreads, and bookish friends who've read it have not loved it.
I can see why, sort of. The girls in this story are nasty, messy, and mean. It's a gritty, pretty dark book and no one is nice or sympathetic or anything. In fact, they're all pretty awful. The characters aren't all that complex. Most of them are pretty shallow and self-absorbed. There is a situation right near the end of the book that I wish had been explored further instead of shrugged off.
But for whatever reason, I was really invested in Alex, Mollie, and Veronica's friendship (or frenemy-ship?). So this one is definitely not for everyone, but I borrowed it from the library and found this super readable, and couldn't put it down.