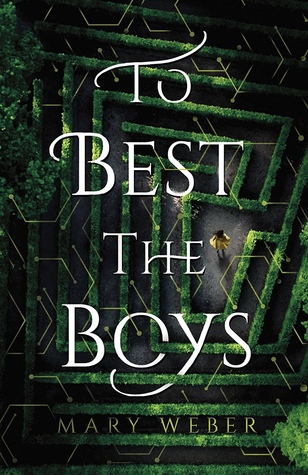 To Best the Boys
By Mary Weber Source
Library
Published by
Thomas Nelson
on March 19, 2019
Rating:

Every year for the past fifty-four years, the residents of Pinsbury Port have received a mysterious letter inviting all eligible-aged boys to compete for an esteemed scholarship to the all-male Stemwick University. The poorer residents look to see if their names are on the list. The wealthier look to see how likely their sons are to survive. And Rhen Tellur opens it to see if she can derive which substances the ink and parchment are created from, using her father's microscope.

In the province of Caldon, where women train in wifely duties and men pursue collegiate education, sixteen-year-old Rhen Tellur wants nothing more than to become a scientist. As the poor of her seaside town fall prey to a deadly disease, she and her father work desperately to find a cure. But when her mum succumbs to it as well? Rhen decides to take the future into her own hands—through the annual all-male scholarship competition.

With her cousin, Seleni, by her side, the girls don disguises and enter Mr. Holm's labyrinth, to best the boys and claim the scholarship prize. Except not everyone is ready for a girl who doesn't know her place. And not everyone survives the deadly maze.
This was a really fun read! I hadn't heard of this one before I came across it while I was looking through the library catalogue one day, but I thought it sounded interesting and I put a hold on it. Once my hold came in, I wound up reading it in one day.
I loved the story about Rhen tackling a challenge that had traditionally been boys-only, and the female empowerment and the way Rhen is determined to prove that she is just as (or more) capable and intelligent than the guys.
I also really liked the world, as well as the light romance. There was also a nice friendship (between Rhen and her cousin Seleni), and even a secondary romance with Seleni and Beryll. I just really liked these characters and liked seeing them work together.
While the labyrinth added more excitement and adventure to the story, it didn't actually make up as much of the story as I expected. I was a little disappointed that that part of the book was as short as it was.
Overall though, this was a really fun read, and I couldn't put it down!