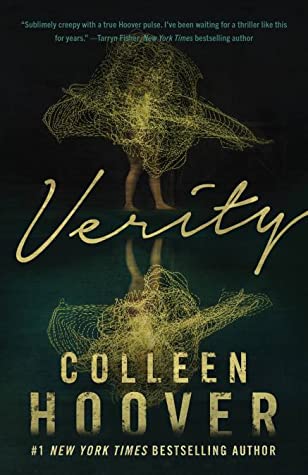 Verity
Source
Purchased
Published by
Grand Central Publishing
on October 5, 2021
Rating:

Lowen Ashleigh is a struggling writer on the brink of financial ruin when she accepts the job offer of a lifetime. Jeremy Crawford, husband of bestselling author Verity Crawford, has hired Lowen to complete the remaining books in a successful series his injured wife is unable to finish.

Lowen arrives at the Crawford home, ready to sort through years of Verity's notes and outlines, hoping to find enough material to get her started. What Lowen doesn't expect to uncover in the chaotic office is an unfinished autobiography Verity never intended for anyone to read. Page after page of bone-chilling admissions, including Verity's recollection of what really happened the day her daughter died.

Lowen decides to keep the manuscript hidden from Jeremy, knowing its contents would devastate the already grieving father. But as Lowen's feelings for Jeremy begin to intensify, she recognizes all the ways she could benefit if he were to read his wife's words. After all, no matter how devoted Jeremy is to his injured wife, a truth this horrifying would make it impossible for him to continue to love her.
Well. I read this book because I can't resist a hyped up mystery/thriller, but I honestly did not enjoy anything about this book. I am so baffled as to what seemingly everyone else who has read it loves about it.
I don't usually like to go on and on about a book I didn't like, but considering how popular this one is, and how much I disliked the book, I couldn't stop myself from putting my thoughts down in a rant as soon as I finished! So this is not my usual kind of review; instead, it's just what I jotted down upon finishing the book.
Obviously, spoiler alert – if you don't want spoilers or really like the book and don't want to read someone hating it, you may not want to read further!
I didn't like a single thing about this. It was not mysterious or thrilling, it was obvious, with a dumb 'twist' at the end. Lowen's comments about Verity (when she thought she was disabled) were supremely gross.
What about this was supposed to be romantic? Sleeping with a guy while his disabled wife is upstairs? Not romantic. Also he puts locks on both Lowen and Verity's doors. On the OUTSIDE. Not romantic! Creepy! And where does he go? What does he do? Why was he so insistent on having Lowen carry on the series? He had absolutely zero personality, why were women crazy for him. Just awful.
Bad writing and absolutely flat characters with no discernible personalities. What are Lowen's other books like? Why did we get a random sleepwalking backstory? Her mother just died, maybe we could deal with that? And this was very boring, for all the hype it has as a thriller.
Also, no one seemed affected by the death they witnessed at the very beginning of the novel! What was the point of that!
The plot was absolutely ludicrous. Reading Verity's manuscript was so icky, I don't care if it was all apparently some absolutely abysmal writing exercise. Maybe slap a disclaimer on that! Or tell your husband what you're up to (even though he apparently doesn't care to read any of your books, except of course the one he would try to murder you over). Why was the manuscript even printed.
How was Verity able to trick everyone into thinking she was braindead? Was she not being given meds daily? Were there no side effects of that? Also, we got zero look at Lowen researching and actually writing anything.
I also do not believe Lowen and Jeremy could plausibly pass off Verity's death as an accident. This book was so dumb and a waste of my time. But it's so hyped, I wanted to see if I could see what people like about it but I have no idea. This read like someone trying so hard to make a twisty thriller, I could feel the effort, but it was not good.
I can't believe people even like this enough or care enough to debate whether the manuscript or letter was 'real'. Who cares, either way everything is awful! This was absolutely not for me.