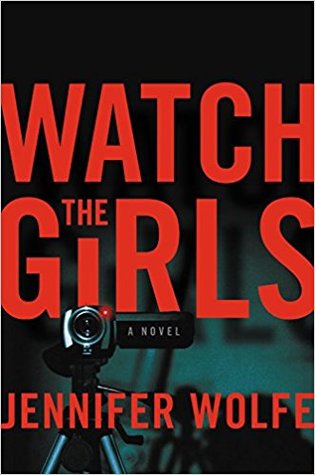 Watch the Girls
By Jennifer Wolfe Source
Purchased
Published by
Grand Central Publishing
on July 10, 2018
Rating:

Fame and obsession collide in this darkly twisted novel from an incredible new voice in suspense.

SOMEONE IS WATCHING
Washed up teen star Liv Hendricks quit acting after her beloved younger sister inexplicably disappeared following a Hollywood party gone wrong. Liv barely escaped with her life, and her sister was never heard from again. But all this time, someone's been waiting patiently to finish what was started...

FOUR MISSING GIRLS
Now fifteen years later, broke and desperate, Liv is forced to return to the spotlight. She crowdfunds a webseries in which she'll pose as a real-life private detective--a nod to the show she starred on as a teen. When a mysterious donor challenges her to investigate a series of disappearances outside a town made famous by the horror movies filmed there, Liv has no choice but to accept.

FOLLOW THE WHITE WOLF
Liv is given a cryptic first clue: Follow the white wolf. And now a darker game is about to begin. Through social media, someone is leaving breadcrumbs to follow. As Liv makes increasingly disturbing discoveries, her show explodes in popularity. A rapt internet audience is eager to watch it all--perhaps even at the cost of Liv's own life...

Filled with provocative twists and turns as the line between plot and reality blurs in this inventive tour-de-force from breakout writer Jennifer Wolfe.
Oh my gosh, this book! I couldn't put it down! It was so good.
I love a good mystery/thriller, and I kept hearing about this one in my bookish social media. I saw a lot of comparisons to Marisha Pessl's excellent Night Film, which I loved, so I knew I had to check out Watch the Girls.
This book was really absorbing and I was pulled in right away. I loved reading about Jonas Kron's horror movies, which definitely sounded creepy (and that was part of the Night Film vibe for me, because I loved reading about the fictional Cordova horror movies in that book). And the way the story moved back and forth in time, to Liv's younger sister going missing one night, and the present day was really interesting.
This was a fun, creepy, twisty read and parts of it were not easy to read. I was initially a little disappointed that some aspects were predictable, but in the end, it had a really good balance for me between figuring some stuff out early on and still being surprised by other things in the book.
Spoiler for Night Film and Watch the Girls: View Spoiler » Here's another part that reminded me of Night Film: Part of what I initially liked about Night Film was the suspicion that the main character was actually in a Cordova film, but I was a bit disappointed that that didn't pan out – but Watch the Girls actually went there and it was so strange and creepy and interesting. That definitely sent my head spinning for a minute! « Hide Spoiler
This was the kind of book that I'd like to go back and reread, and I think it's one that will stay with me throughout the year. Dark, creepy, twisty – my kind of mystery! Recommended!