Week In Review
June 1 – 7
Hello! Another weekend is nearly over – they go so quickly! But next weekend is a long weekend for me, since I'm taking the Monday off work. I can't wait!
More book goodies this week: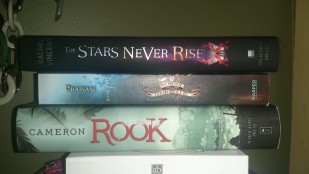 I purchased copies of:
The Stars Never Rise, by Rachel Vincent;
A World Without Princes (The School for Good and Eveil #2) by Soman Chainani; and
Rook, by Sharon Cameron.
I actually bought those a week ago I think, but forgot to include them in my new book roundup.
I also met up with my friend Kathy and borrowed some of her BEA ARCs: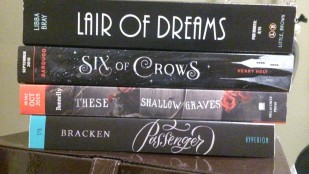 Lair of Dreams (The Diviners #2) by Libba Bray – I have been waiting forever to read this!! It's my most anticipated book of 2015;
Six of Crows, by Leigh Bardugo;
These Shallow Graves, by Jennifer Donnelly; and
Passenger, by Alexandra Bracken.
Thank you Kathy! She very generously let me borrow some of the biggest BEA books (also literally the biggest – these are all huge!) and I'm beyond excited to have them in my possession and to read them all!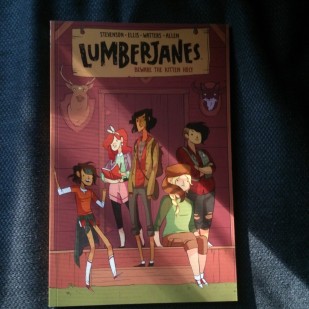 I ordered volume one of Lumberjanes (by Noelle Stevenson, Grace Ellis, and Brooke A. Allen) a few weeks back and it finally arrived in the mail this week! I'm making myself take my time with it, because I have to wait until October for volume two. It's adorable and hilarious and all about friendship and I love it!
I only finished reading one book this week, but it was a great one! Jenny Han's P.S. I Still Love You was perfection! I'm still trying to figure out how to write my review, but know that I loved the book so much, and if you were a fan of To All the Boys I've Loved Before, I think this sequel will make you happy.
Currently, I'm reading four books, because I'm living life on the edge:
The Bone Clocks by David Mitchell;
Joyride (e-ARC) by Anna Banks;
Lair of Dreams; and
Lumberjanes.
On the blog, I posted my reviews of Tiny Pretty Things by Sona Charaipotra and Dhonhielle Clayton (I wanted to love it but didn't), and Nimona by Noelle Stevenson (I adored it!). I also shared my thoughts on episodes 14 and 15 of Supernatural, as part of my rewatch project.
Coming up this week are some more Supernatural posts, as well as my reviews of What Waits in the Woods by Kieran Scott, and Sick by Tom Leveen.
I'm off to get some coffee and curl up with one of my books! Happy Sunday!
Related Posts