Week In Review
May 20 – 26
What a dreary week! The weather has been grey and rainy. Not ideal for being outdoors, but it's perfect weather for curling up on the couch indoors with a book!
Friday night my husband and I went to a barbeque at a friend's house and watched what turned out to be the last game in the series between the Ottawa Senators and Pittsburgh Penguins. I'm a Toronto Maple Leafs fan, but I don't like seeing my husband and friends sad, so I was hoping the Sens would win. Alas, they did not, so now both my team and my husband's team are out of the playoffs.
My husband took me out for dinner on Saturday night. Date night! The food was great  (warm pretzels with mustard as an appetizer – maybe one of the best things I've ever eaten! – and then fish and chips for me, and meatloaf with mashed potatoes for Mr. Pingwing) but the service was really slow, so that was kind of frustrating. However, it was nice to eat at a restaurant – not something we do very often, so it's always a treat!
This week was an adventure in nail polish! I've been inspired by a bunch of nail art blogs I follow, and while I still need lots of work to improve my technique, I'm having fun trying things out!
First up was an experiment with a matte top coat over black nail polish, using striping tape, with sparkles on the pinky: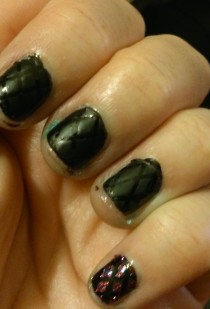 I liked the idea but it was my first time using striping tape and as you can see, it got a bit messy. It's something I'd like to try again once my skills improve, though.
Next up was another attempt to use striping tape, but with bolder colours: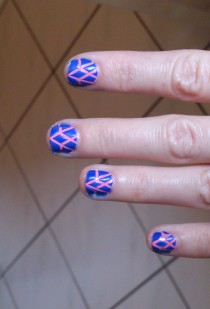 Again, I liked the idea, but my skills were not good enough, and it was too messy for me. Also, the blue I was using on top was maybe too jelly in its consistency. It required multiple coats for full opacity, and it just didn't seem like the right formula for what I was trying to do. I'd love to try this again, with a different blue perhaps (I've been searching stores for Essie's Butler Please, but haven't been able to find it yet).
Then I tried something else, using little glitters on one finger, and striping tape with a sparkly polish on the others: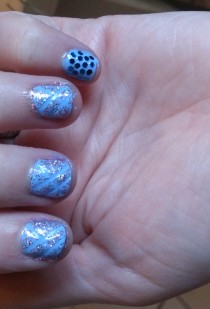 I liked the effect on my pinky finger, but not the others. Back to the drawing board!
This is what I ended up with and still have on my nails, so in that way at least it's a success: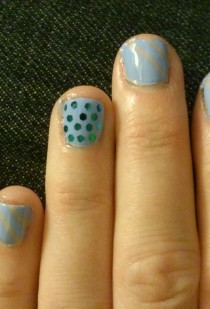 On to books! This week I posted reviews for Pretty Girl-13 and City of Glass, book three in the Mortal Instruments series. I also shared my Waiting on Wednesday post about Infinityglass.
Earlier, I finished reading Mind Games, which was also a book club read, and am working on that review.
I also finished reading The Cottage at Glass Beach, which I received for review from TLC Book Tours, and will post that review on Tuesday as part of the blog tour.
My current reads are Michael Grant's Gone, and Tethers by Jack Croxall.
I think the rest of the weekend will be spent watching baseball and some of the new Arrested Development episodes on Netflix. I am so excited!!
Happy Sunday everyone!
Related Posts