June 3 – 9
What a week! I was really busy at work, feeling a bit overwhelmed, but as luck would have it, I had scheduled the Friday and Monday (June 7 and 10) off work for a trip to Toronto with my husband, my BFF, and her boyfriend to go see two Toronto Blue Jays games against the Texas Rangers. What a fabulous reward after such a tough week!
I have a lot to say about the baseball games, so first let me get to books!
This week, I posted my reviews of Game by Barry Lyga (number two in the Jasper Dent series), and Obsidian by Jennifer Armentrout. I also wrote a Waiting on Wednesday post about Allegiant, the final book in Veronia Roth's Divergent series. I can't wait for that book!!
I finished reading Tethers by Jack Croxall and will be working on that review this week.
With the somewhat nicer weather, I feel like my reading has slowed down a bit, and every time I look at my TBR list or my stack of library books I've checked out but haven't started to read yet, I feel the anxiety rising! What I think I will do is just return all my library books, and work on reading the stack of books I've bought this year but haven't read yet. I can borrow those library books again, and I feel bad purchasing books that end up sitting on my shelves, untouched. I'm going to really try and make a dent in those unread books this summer.
To add to the stack of books to read on my shelves, I received an ARC of Dangerous Girls by Abigail Haas from the lovely people at Simon & Schuster Canada, and I'm super excited to read this book! I also won a copy of Nobody But Us by Kristin Halbrook from the wonderful Kathy of A Glass of Wine. Thanks Kathy!
And my pre-order of Kate Karyus Quinn's Another Little Piece has shipped! I'm so incredibly excited about this book, I can't wait until it arrives!
Coming up this week on the blog are my reviews of Nova Ren Suma's 17 & Gone, and Robin Benway's Also Known As (I loved both books!).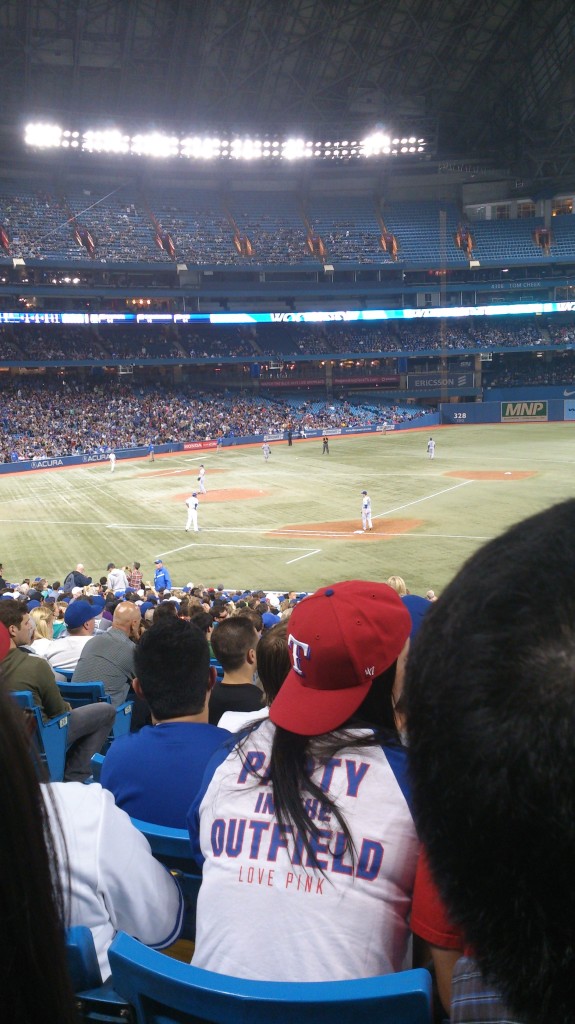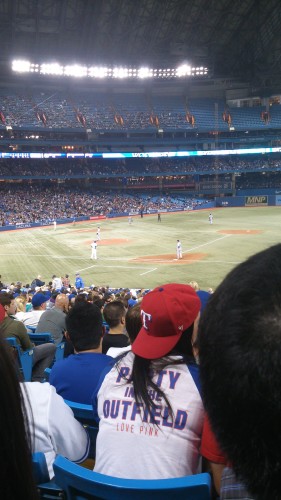 And now to talk about my weekend! We left Ottawa on Friday afternoon and took the train to Toronto. I love taking the train, and this trip was especially wonderful because we travelled first class! What a treat! We had pasta, wine, pretzels, chocolate, and hot towels. And the best part? Not having to wait in line to board the train like I normally do when I travel.
Unfortunately, due to a mud slide earlier in the day, our train arrived in Toronto about an hour and a half late, so by the time we checked into the hotel (Westin Harbour Castle) and ran to the Rogers Centre, we had missed the first two innings of the game. Boo!
But once we were in our seats, we had a great time! I know my parents took me to a game when I was really little, but I barely remember it, so I was super excited to be there watching my Jays in person. We sat along the first baseline, in the low 100 level seats, and although the dome was closed, it was such a great atmosphere. The fans were rowdy and into the game, and it was amazing to cheer for my team with thousands of other fans.
And I got my popcorn! I was looking forward to getting a big bag of popcorn all week with the Jays logo on the bag!!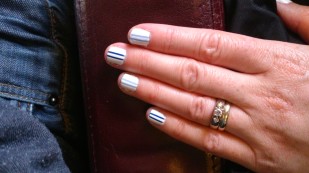 I also painted my nails with the Jays colours in anticipation of the games:
To top it off, the Blue Jays beat Texas, 6-1.
Saturday's game was an afternoon game, and we sat along the third baseline in the high 100 level. The consensus was that these seats were better than Friday's. We seemed to have a better angle and view of the field, and it was an overcast day but the dome was open, which was great.
This game turned into something of a marathon – it ended up going 18 innings!! And thank goodness the Jays won after all that time. I don't think I could have handled a loss after all that! A lot of people left after the 12-14 innings, but we decided to stick it out. I didn't travel all that way not to see the end of the game, after all. It was so exciting when the winning run was scored: we were jumping up and down and cheering and high fiving like crazy.
Between the two games, we almost saw it all: home runs, stolen bases, foul balls hit near us in the stands, a fan running onto the field and sliding into second base, a tag out at home plate, and more that I'm probably forgetting. It was such an incredible experience!

A few things stood out to me from my live game experiences. The first is that there can be a lot more going on on the field than what's shown on t.v. Also, the field seemed somehow smaller in real life than on t.v. And the atmosphere was just amazing. I've been to live sporting events before – mostly hockey games – but at both games, people in the stands were so into the game and excited and cheering or booing, and people were friendly. My husband was chatting with the couple behind us on Saturday's game, and they were so nice. After 18 innings, we felt like we were all in it together, and it was just so fun to feel like a part of something big like that.
I was dressed up in my Blue Jays gear with my hat and Jays t-shirt for Friday, and then on Saturday I paired my hat with something I've been excited to wear since Kevin brought it home for me last month: my sequined Blue Jays racer back tank top!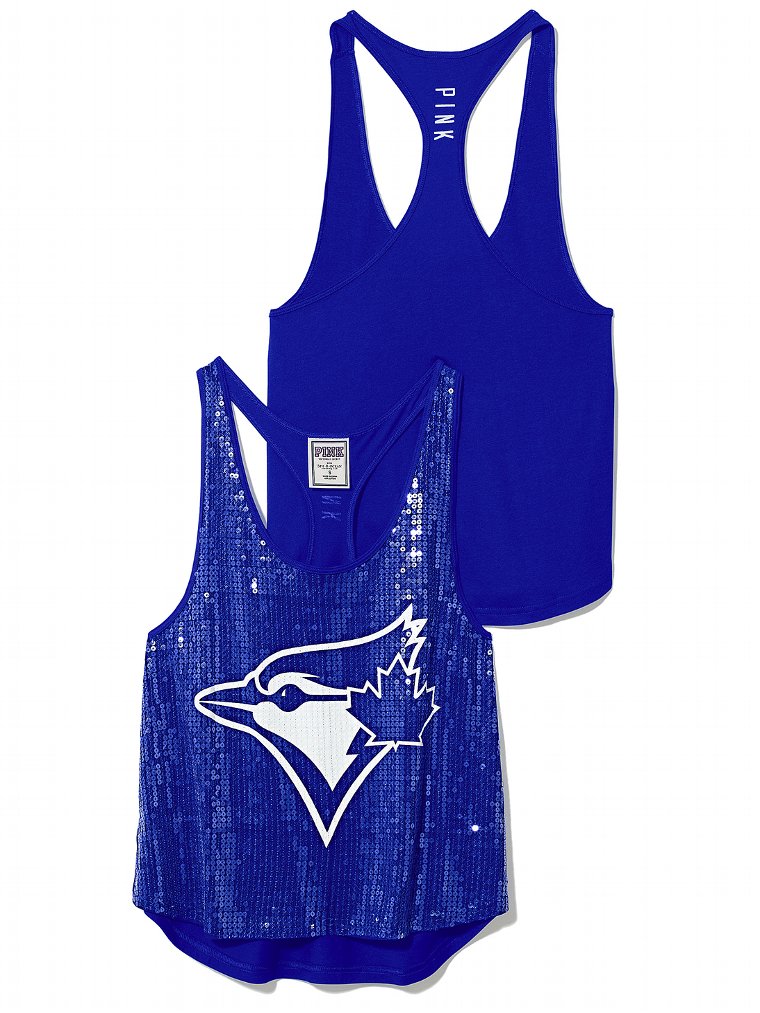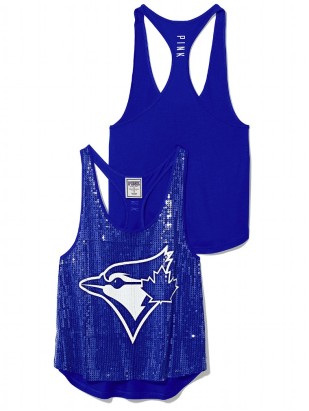 We really want to make this an annual thing, so I'm already looking forward to going back next year! Aside from getting a bit of a sunburn on Saturday (even though it was cloudy and we couldn't see the sun all day; still, lesson learned re: sunscreen!), it was a perfect weekend.
I leave you with the now-classic interview with Jays fan-favourite Munenori Kawasaki from a few weeks back: