Week In Review
October 31 – November 13
What a week! I was sick all of this past week, and after a day in the ER, I've spent all of my time sleeping, drinking water, and coughing. Not fun. But I'm getting better, so that's that.
Not much in the way of new books these past couple of weeks, but I did receive an e-ARC of Sparks of Light by Janet B. Taylor via Edelweiss, and I purchased the e-book of The Vanishing Throne by Elizabeth May.
I've been continuing my rewatch of Gilmore Girls before the new episodes come out later this month. I've finished season six, and now I just have to get through season seven.
I've finished five books in the last couple of weeks:
Paper Princess, Erin Watt;
The Wild Robot, Peter Brown;
What Light, Jay Asher;
Heartless, Marissa Meyer; and
The Falconer, Elizabeth May.
Currently, I'm reading His Bloody Project, by Graeme Macrae Burnet. I'm also trying to figure out which ARC I want to get off my shelves and read.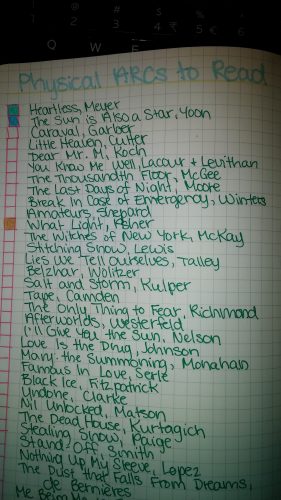 I started bullet journalling last month, and am finding it pretty fun and useful. One of the best things that I've done with it so far is make a checklist of all of the physical ARCs I have, some of which have been on my shelves for a few years, and colouring in a box beside the book's name when I start to read one. I'm really trying to make more of an effort to read my physical ARCs these past couple of months, and so far this has really helped me. In the short time that I've been doing this, I've already read five of my ARCs. I'm thinking about implementing something similar for books I've owned for years but still haven't picked up.
On the blog the past couple of weeks, I posted review of:
Last Seen Leaving, Caleb Roehrig;
One Was Lost, Natalie D. Richards;
The Kiss of Deception, Mary E. Pearson; and
Illuminae, Amie Kaufman and Jay Kristoff.
I also shared my Top Ten Tuesday post about the top books I've added to my TBR recently.
Coming up are my reviews of Nicola Yoon's The Sun Is Also a Star, and Paper Princess.
I'll be spending the rest of the day continuing to battle this cold, and then watching tonight's new episode of The Walking Dead. Happy Sunday!
Related Posts