Week In Review
August 5 – 11
Hello! I'm happy because I'm only working three days this week, and then I'm going to visit my parents for a few days. It should be relaxing!
I borrowed a couple of books from fellow blogger Kathy at A Glass of Wine this week: Forgive Me, Leonard Peacock by Matthew Quick and Tampa by Alissa Nutting. I think I forgot to mention this on the blog, but I also received this ARC of Perfect Ruin by Lauren DeStefano a couple of weeks ago.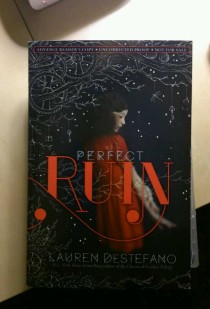 I adore this cover, and I'm excited to read this one!
On Friday, the Sisterhood of the Traveling Book Club had its first 'meeting' via Skype! I had so much fun chatting with Kathy, Kelly, and Christie! I was very bummed when my laptop died on me towards the end of our chat, but rest assured, I've started to save up for a new one.
We talked about our book, The Sisterhood of the Traveling Pants, and wound up chatting about books and t.v. shows too. So fun! I can't wait until our next chat (about Tampa). Kathy will be posting a recap on her blog shortly!
This week, I finished reading three books: Seven Minutes in Heaven, the last book in Sara Shepard's The Lying Game series; Find Me by Romily Bernard; and Wild Awake by Hilary T. Smith. Look for those reviews in the next few weeks!
I'm currently reading Reboot by Amy Tintera, and Throne of Glass by Sarah J. Maas. I've been wanting to read Throne of Glass for ages, and the sequel is due out in just a couple of weeks, so it seemed like the right time to finally give it a go!
On the blog, I posted my reviews of Siege and Storm by Leigh Bardugo, and Sky on Fire by Emmy Laybourne. I also shared my Waiting on Wednesday pick for Kate Brian's Hereafter, and posted my own A to Z survey, inspired by Jamie's at The Perpetual Page Turner!
I have a lot of reviews coming up this week: Suzanne Young's The Program tomorrow; This World We Live In by Susan Beth Pfeffer on Tuesday; Fire with Fire by Jenny Han and Siobhan Vivian on Thursday; and The Shade of the Moon on Friday (the follow up to This World We Live In). Phew!
I'm off to make breakfast, have another coffee, and read. Happy Sunday!
Related Posts