December 16 – 22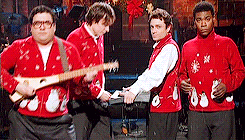 I'm on Christmas vacation! I am so excited to have time off to relax and read! I unpaused all of my library holds in anticipation of having a lot of reading time, so we'll see how many books I get through.
I'm also going to try and catch up on my shows and BTS videos, start watching something new (Witcher on Netflix probably), go see the new Star Wars movie in the theatre, possibly see Parasite again, and watch a bunch of movies at home (especially Ready or Not, John Wick 3, and The Lighthouse).
I've got a post coming tomorrow about my favourite books that I've read this year, and I've started working on Jamie at Perpetual Page Turner's annual book survey.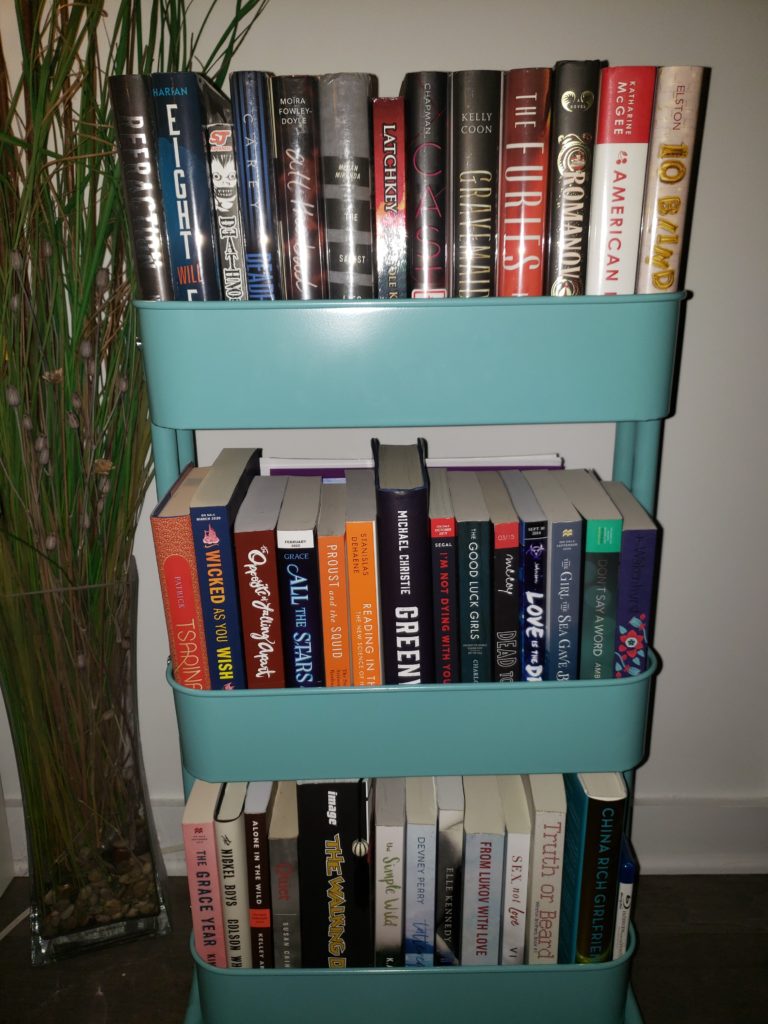 I also treated myself to a book cart! I'd had my eye on this one for quite a while, and finally decided to go for it. I love it! It is helping me keep my library books and books borrowed from friends organized.
New books:
I used some Christmas money to get some more books on sale for my Kobo (along with one full price book that was a treat):
Theme Music, T. Marie Vandelly;
American Royals, Katharine McGee;
The Hole, Hye-Young Pyun;
The Luminous Dead, Catilin Starling;
The Test, Sylvain Neuvel; and
Zombie Abbey, Lauren Baratz-Logsted.
I also snagged several more library books, e-books, and manga , some of which you can see in the top shelf of my book cart:
Caster, Elsie Chapman;
Latchkey (Archivist Wasp Saga #2), Nicole Kornher-Stace;
The Safest Lies, Megan Miranda;
All the Bad Apples, Moira Fowley-Doyle;
Deadfall (Blackbird #2), Anna Carey;
Deathnote, Vol. 1, Tsugumi Ohba, Takeshi Obata (Illustrator);
Eight Will Fall, Sarah Harian;
Screen Queens, Lori Goldstein;
Tokyo Ghoul, Vol. 1, Sui Ishida;
Wildcard (Warcross #2), Marie Lu;
All-American Muslim Girl, Nadine Jolie Courtney;
The Girl From the Other Side, Vol. 1, Nagabe;
The Widow of Rose House, Diana Biller; and
Tuesday Mooney Talks to Ghosts, Kate Racculia.
I love my library!
I also received some e-ARCs via Edelweiss that I'm excited about:
Clown in a Cornfield, Adam Cesare;
Ghost Wood Song, Erica Waters; and
The Falling In Love Montage, Ciara Smyth.
Books read:
I only read one book this week! I'd better pick up the pace if I'm going to make a dent in my library stack.
I finished reading Mycroft Holmes by Kareem Abdul-Jabbar and Anna Waterhouse.
Current reads:
I'm still reading Into the Crooked Place by Alexandra Christo. I'm also reading Drive Your Plow Over the Bones of the Dead by Olga Tokarczuk, and an e-ARC of Blood Countess by Lana Popovic.
I'm hoping to finish one of those today or tomorrow.
Reviews:
I posted my review of The Kiss Quotient by Helen Hoang, and Top Ten Clues You're Clueless by Liz Czukas.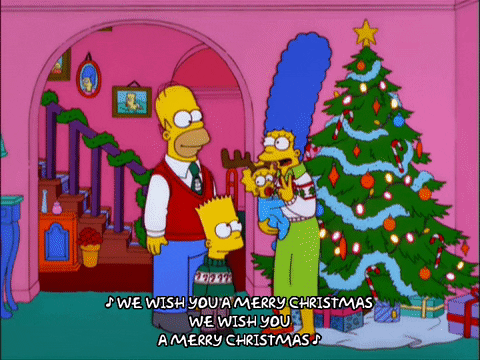 Merry Christmas and happy holidays! I hope everyone gets some time to read and relax!