Week In Review
May 12 – 18
Saturday was my birthday, and this year I received the best gift: a birthday long weekend!
On Friday, I had my usual exciting night of laundry and painting my nails, and I finally caught up on the last few episodes of my favourite podcast, Welcome to Night Vale. I've got the two live episodes to listen to now and I'm so excited!
Saturday was a day full of reading and blogging and playing Pokemon, and then I went to my BFF"s for a birthday barbeque and ice cream cake! Then we went to see the Godzilla movie, which was loud and fun and exciting.
Today I plan to read more, write more reviews, watch baseball, and have my Sisterhood of the Traveling Book Club chat!
Monday – glorious holiday Monday – will be all about BEA planning!! I'm going to BEA (and New York City) for the first time this year, so I've got lots to do in terms of putting together a schedule, digging out my suitcase, figuring out what to pack, and deciding what I want to see while I'm in NYC. Eee!
Lots of books made their way to my shelves this week: I  purchased Bird Box by Josh Malerman (I'm super excited to read this); Winter White by Jen Calonita; Raging Star by Moira Young; and All Our Yesterdays by Cristin Terrell.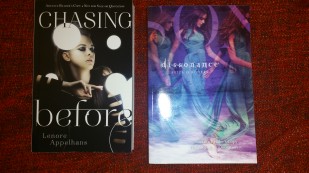 I received e-ARCs of My Last Kiss by Bethany Neal and Of Metal and Wishes by Sarah Fine, and Simon & Schuster Canada sent me ARCs of Dissonance by Erica O'Rourke and Chasing Before by Lenore Appelhans (thank you!).
I think it's safe to say I'm out of whatever reading slump I'd been in for a few weeks. I finished reading a whole bunch of books lately: Amity by Micol Ostow; Of Monsters and Madness by Jessica Verday; Second Star by Alyssa Sheinmel; and The Secrets of Lily Graves by Sarah Strohmeyer.
Currently I'm reading Amy and Roger's Epic Detour (still) and ARCs of  The Heiresses by Sara Shepard and (Don't You) Forget About Me by Kate Karyus Quinn.
I posted my reviews of:
Biggest Flirts by Jennifer Echols;
Plus One by Elizabeth Fama; and
Hereafter by Kate Brian.
Coming up on the blog are my reviews of Crown of Midnight by Sarah J. Maas and Second Star.
Hope you're all enjoying your (long) weekend! I'm going to watch some baseball, read, and flail about BEA!
Related Posts