Week In Review
June 9 -15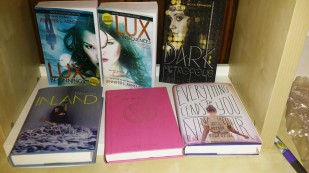 What a wonderful book week I've had! A whole bunch of books that I pre-ordered at various times arrived at my house on the same day. I love when that happens! They were:
The Merciless by Danielle Vega;
Dark Metropolis by Jaclyn Dolamore;
Lux: Beginnings and Lux: Consequences by Jennifer Armentrout;
Inland by Kat Rosenfield; and
Everything Leads to You by Nina LaCour.
I don't know which book I should read first!!
I also picked up:
Mila 2.0: Renegade by Debra Driza and Landry Park by Bethany Hagen from the library;
Dollhouse by Anya Allyn from Netgalley;
Winterspell by Claire LeGrand,  Behind the Scenes by Dahlia Adler, and The Swap by Megan Shull from Edelweiss.
I finished reading Half Bad by Sally Green and an ARC of Virgin by Radhika Sanghani.
My current reads are Mila 2.0: Renegade and Landry Park (gotta read those library books asap to avoid fines!).
On the blog, I posted my reviews of The Fault in Our Stars by John Green and The Murder Complex (ARC) by Lindsay Cummings. I also wrote about my love for Supernatural, my favourite television show.
Coming up this week are my reviews of The Heiresses by Sara Shepard and The Dark World by Cara Lynn Shultz.
Happy Sunday and happy reading!
Related Posts