July 7 – 13
I feel like the week flew by! It was the weekend before I knew it, which was pretty great.
On Friday,  I had a dinner +  movie night with my husband: we had homemade pizza (so good!) and watched Transporter 3 (I love that series). On Saturday, we went out for Meaghan's birthday dinner, which was a lot of fun. Happy birthday Meaghan!
I've been playing a lot of Nintendo this week, mostly Shovel Knight. I bought it a few days ago and it's so much fun! It's a throwback to earlier games, like Mega Man, that were fun but challenging. I've really enjoyed it, and I only have the final level left to play. I love the graphics, the music, and the fairly simple controls.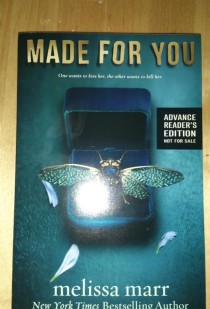 Okay, on to books. This week I received Perfect Couple (Superlatives #2) by Jennifer Echols via Edelweiss, and picked up both The Unseemly Education of Anne Merchant by Joanne Wiebe and Never Knowing by Chevy Stevens from the library.
I also received an ARC of Made For You by Melissa Marr from HarperTeen. Thank you!
I started to read Insanity by Susan Vaught but DNF'd after the first 100 pages. It just wasn't doing it for me, and I'm glad I was able to put it down unfinished and guilt-free. I'm really trying to do that more when I'm not enjoying a book – I struggle with DNF'ing! – so that I can move on to something else that I hope to enjoy.
I finished just one book this week, but it was an excellent one: The Girl with All the Gifts, by M.R. Carey. Amazing!
Currently, I'm reading an ARC of Dissonance by Erica O'Rourke (which I'm really enjoying), and The Mirk and Midnight Hour by Jane Nickerson
On the blog, I posted my reviews of Lindsey Leavitt's The Chapel Wars, which was okay but I didn't love, and Ruin and Rising by Leigh Bardugo, which was an amazing end to the series. I also shared my Top Ten Tuesday post on my blogging confessions. It was really fun to read what other people had to say!
Coming up are my reviews of Dollhouse by Anya Allyn and Landline by Rainbow Rowell.
I'm spending the rest of the day reading (what else!). Happy Sunday!