November 10 – 23
I was out of town last weekend and didn't get my usual week in review post up, so this one will cover the last two weeks.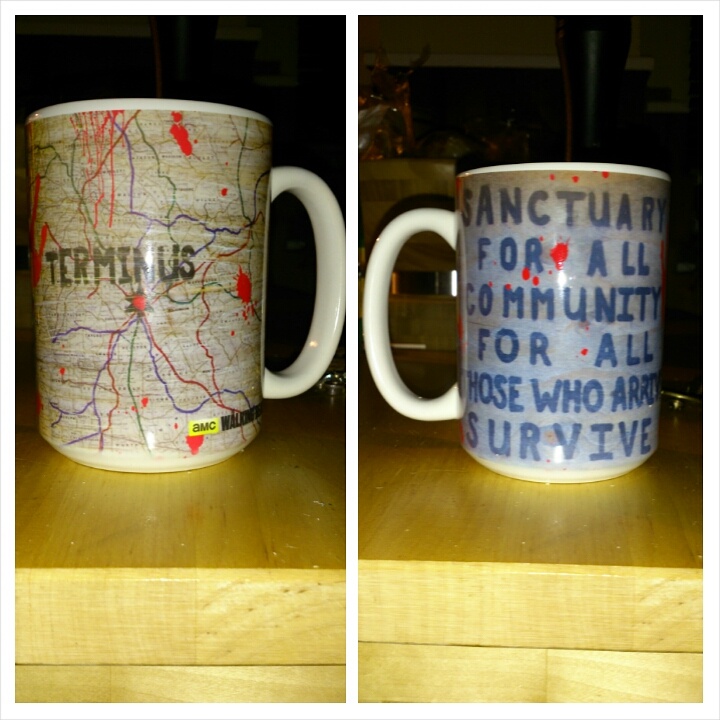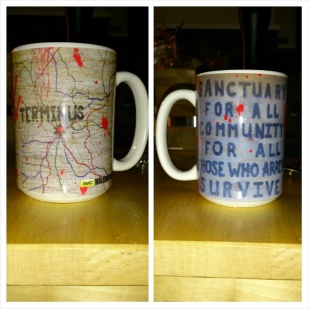 I am currently obsessing over my two favourite shows, The Walking Dead (only two episodes left until the midseason break – I can't handle it! I'm doing a series rewatch right now and am finishing season two as I write this, which is not as bad as I remember on a repeat viewing…but it really confirms, in my opinion, that seasons four and five have been the BEST) and Supernatural (the 200th episode is still on my mind. It was so perfect!). I recently bought a Terminus mug that I am in love with (and drinking out of right now), along with a sweet Supernatural t-shirt. I want more!
Last weekend I was out of town because I was attending the Inspire! Toronto International Book Fair with Meaghan, Ciara, Emilie, Katherine, and Jess. The weekend was a lot of fun! We met up with the Toronto bloggers, I listened to some good panels, spent time with my younger sister, and met MAGGIE STIEFVATER and got a signed copy of Blue Lily, Lily Blue! Michele's Recap: The Good, The Bad, & The Ugly sums the weekend up pretty well!
Oh yeah, I wrote about my four year blog anniversary! I can't believe I've been hanging out in this little corner of the internet for so long!
On Friday, I saw Mockingjay Part 1 and overall, I really enjoyed it. I really don't like that the final book adaptation has been turned into two movies, and I felt that the movie didn't really have an ending. They stopped about where I figured they would, but it felt like such a non-ending. However, I'm very excited for part two!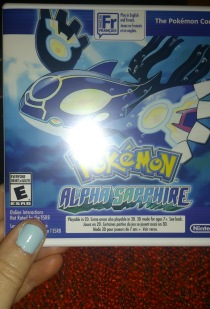 I also bought my copy of Pokemon Alpha Sapphire! I haven't even played it yet, but I picked it up after work on Friday and I can't wait to get into it!
Many books were acquired in the past two weeks:
In Toronto, I got my signed Blue Lily, Lily Blue along with  a signed copy of Elaine Lui's Listen to the Squawking Chicken. I also picked up Love and Other Unknown Variables by Shannon Alexander  and Whatever Life Throws At You by Julie Cross from Entangled Teen (thank you!).
I have borrowed a few more library books: The Fever by Megan Abbott; Wolf in White Van by John Darnielle; and The Young Elites by Marie Lu.
I think it's quite safe to say that I've broken my book-buying ban. It was good while it lasted! I have recently purchased Parasite and Symbiont by Mira Grant (I LOVE her Feed trilogy and am really looking forward to reading this new series); Fangasm by Katherine Larsen and Lynn S. Zubernis; The End of Everything by Megan Abbott, and Never Fade (The Darkest Minds #2) by Alexandra Bracken. Phew!
Simon and Schuster Canada sent an ARC of The Damned by Andrew Pyper (thank you!), which I'm really looking forward to reading because it sounds like my kind of book!
Edelweiss was very good to me over the last couple of weeks too. I received e-arcs of Lexa Hillyer's Proof of Forever; Maggie Lehrman's The Cost of All Things; Corey Ann Haydu's Making Pretty;  E.E. Cooper's Vanished (I am SO EXCITED about this book); Emancipated by M.G. Reyes; Made You Up by Francesca Zappia; Extraordinary Means by Robyn Schneider; A Sense of the Infinite by Hilary T. Smith; and Illusionarium by Heather Dixon.
I feel like I haven't done much reading lately, or at least not as much as I'd have liked to do. I finished reading Mortal Heart by Robin LaFevers; They All Fall Down by Roxanne St. Claire; Jonathan Livingston Seagull by Richard Bach; Glory O'Brien's History of the Future by A.S. King; and Court by Cat Patrick. I also reread Gillian Flynn's Dark Places for book club.
Currently, I'm reading Blue Lily, Lily Blue and The Cure for Dreaming by Cat Winters.
On the blog, I posted reviews of:
The Secret Diamond Sisters, by Michelle Madow;
Heir of Fire, by Sarah J. Maas;
Smart, by Kim Slater; and
All She Was Worth, by Miyuki Miyabe.
Coming up this week are reviews of My True Love Gave To Me, edited by Stephanie Perkins, and They All Fall Down.
Time for more coffee and more Walking Dead! Happy Sunday!