January 26 – February 1
Well, today is Superbowl Sunday, which is not really a big deal in my house. I might watch a bit of the game and will probably check out the halftime show, but mostly I'm excited that today is going to be all about reading! I've got a stack of library books to try and get through.
Speaking of library books, I picked up a few this week that I'm very excited to read:
The Troop by Nick Cutter;
The Naturals by Jennifer Lynn Barnes; and
Between the Devil and the Deep Blue Sea by April Genevieve Tucholke.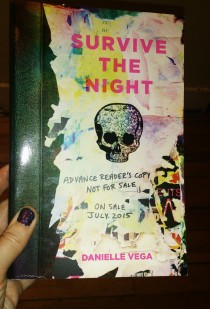 In the mail, I received an arc of Danielle Vega's Survive the Night, which is one of my most-anticipated 2015 releases! I loved The Merciless when I read it last summer, and I can't wait to read this one! I just love the cover!
I also received some e-arcs via Netgalley and Edelweiss:
Shadow Scale (Seraphina #2) by Rachel Hartman (Netgalley);
The Third Twin by C.J. Omololu (Netgalley);
Get Dirty (Don't Get Mad #2) by Gretchen McNeil (Edelweiss); and
Resonance (Dissonance #2) by Erica O'Rourke.
I read three books this week: We All Looked Up (arc) by Tommy Wallach; Forget Me by K.A. Harrington; and Liars, Inc. (e-arc) by Paula Stokes. I liked them all!
Currently, I'm not really reading anything but I plan on starting to read The Troop later today. The back flap of the book says it's part Lord of the Flies, part 28 Days Later. Lord of the Flies is one of the few books I had to read for school that I enjoyed, and 28 Days Later is one of my all-time favourite movies, so my expectations for this book are very high!
On the blog last week, I posted my reviews of Shutter by Courtney Alameda, and Station Eleven by Emily St. John Mandel. I loved both books!
I also shared my Waiting on Wednesday post, about Bone Gap by Laura Ruby. I'm really looking forward to picking this one up!
Coming up this week are reviews of The Girl on the Train by Paula Hawkins, and Red Queen by Victoria Aveyard. I've also got a Waiting on Wednesday post coming up this week featuring another one of my most-anticipated books – and this time, it's non-fiction!
That's all for me! I've got some reviews to write and then I want to paint my nails and start The Troop! And oh yeah, check out a bit of that football game.
Happy reading!