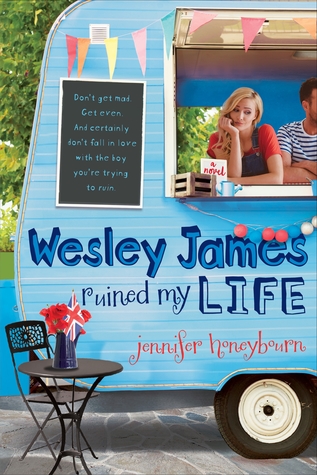 Wesley James Ruined My Life
By Jennifer Honeybourn Source
Library
Published by
Swoon Reads
on July 18, 2017
Rating:

Sixteen-year-old Quinn Hardwick's having a rough summer. Her beloved grandmother has been put into a home, her dad's gambling addiction has flared back up and now her worst enemy is back in town: Wesley James, former childhood friend—until he ruined her life, that is.

So when Wesley is hired to work with her at Tudor Tymes, a medieval England themed restaurant, the last thing Quinn's going to do is forgive and forget. She's determined to remove him from her life and even the score all at once—by getting him fired.

But getting rid of Wesley isn't as easy as she'd hoped. When Quinn finds herself falling for him, she has to decide what she wants more: to get even, or to just get over it.
I think I picked this up because I had finished reading Watch the Girls which was fantastic, but sometimes after reading something dark like that, I want something light and fluffy after.
This book was a quick, fun read, but that's kind of all I have to say about it. It had some interesting subplots, like Quinn's relationships with her father and with her grandmother, but I didn't feel anything while I was reading this.
Sometimes it's really difficult to write a review for a book that was fine, as opposed to reviewing a book I loved or a book I strongly disliked. For me, this book wasn't great but it wasn't bad. It was what I was looking for in the moment, after reading a dark and twisty book, but I don't think it's one that has made a lasting impression.
Then again, I'm very hit or mess with contemporary books and it's harder for me to really get into those than it is with a fantasy or a thriller, so if you're a contemporary YA fan, this might be one to check out.