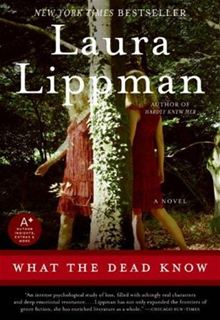 What The Dead Know
Source
Purchased
Published by
William Morrow
on March 13, 2007
Rating:

Thirty years ago two sisters disappeared from a shopping mall. Their bodies were never found and those familiar with the case have always been tortured by these questions: How do you kidnap two girls? Who—or what—could have lured the two sisters away from a busy mall on a Saturday afternoon without leaving behind a single clue or witness?

Now a clearly disoriented woman involved in a rush-hour hit-and-run claims to be the younger of the long-gone Bethany sisters. But her involuntary admission and subsequent attempt to stonewall investigators only deepens the mystery. Where has she been? Why has she waited so long to come forward? Could her abductor truly be a beloved Baltimore cop? There isn't a shred of evidence to support her story, and every lead she gives the police seems to be another dead end—a dying, incoherent man, a razed house, a missing grave, and a family that disintegrated long ago, torn apart not only by the crime but by the fissures the tragedy revealed in what appeared to be the perfect household.

In a story that moves back and forth across the decades, there is only one person who dares to be skeptical of a woman who wants to claim the identity of one Bethany sister without revealing the fate of the other. Will he be able to discover the truth?
I read I'd Know You Anywhere by Laura Lippman last year and included it on my top ten list of books read in 2011, and I'd been looking for another book of hers to read since then.
Since I liked I'd Know You Anywhere so much, I had high hopes for this book, and it started off promisingly enough: a woman involved in a hit-and-run tells cops that she is one of two sisters who went missing thirty years ago. Of course, they are skeptical at first, but she is able to answer a number of questions and provide enough detail on the lives of the Bethany sisters that many believe her to be who she claims.
Kevin Infante is the detective then assigned the long-cold Bethany sisters case. He remains doubtful that this woman is really one of those sisters, and his doubt increases as she refuses to answer the questions everyone wants to know: where has she been all this time; what happened to her sister; why hadn't she come forward about what happened to them?
Unfortunately, as the book went on and the maybe-Bethany girl kept stalling and refusing to answer those questions, my frustration grew. The book jumped around between various characters, past and present, and things that seemed significant at the time were discarded in later chapters or not referred to again, leaving me confused.
While I thought one of the 'big' twists in the novel was fairly obvious, parts of it were not, so the actual mystery of it all was still intriguing. I guess this book was just okay for me – I didn't love it, didn't hate it, was mildly entertained while reading it, but didn't think about it once I put the book down. If you're looking for a good mystery, I'd suggest that you skip this and read Gone Girl by Gillian Flynn instead.