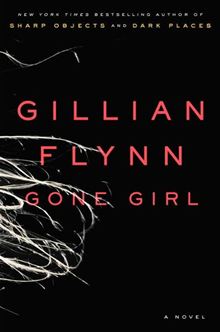 Gone Girl
By Gillian Flynn Source
Purchased
Published by
Broadway Books
on April 22, 2014
Rating:

On a warm summer morning in North Carthage, Missouri, it is Nick and Amy Dunne's fifth wedding anniversary. Presents are being wrapped and reservations are being made when Nick's clever and beautiful wife disappears. Husband-of-the-Year Nick isn't doing himself any favors with cringe-worthy daydreams about the slope and shape of his wife's head, but passages from Amy's diary reveal the alpha-girl perfectionist could have put anyone dangerously on edge. Under mounting pressure from the police and the media—as well as Amy's fiercely doting parents—the town golden boy parades an endless series of lies, deceits, and inappropriate behavior. Nick is oddly evasive, and he's definitely bitter—but is he really a killer?
I'd read Gillian Flynn's previous two books, Sharp Objects (which I liked) and Dark Places (which I didn't), but this book – wowowowowow. It's so much better than those, or than many other mysteries or thrillers I've read. This book was impossible to put down. I read it in bed well past the time I should have been asleep, and read it early in the morning when I should have been getting ready for work. This may be one of my top ten reads for the year.
On the morning of Nick and Amy's fifth wedding anniversary, Amy goes missing. He quickly becomes the prime suspect. Chapters alternate between Nick's narration and between Amy's narration through her diary. And that's where I have to stop with the plot because – trust me – you should read this knowing as little as possible. You really don't want to spoil this one!
This book had me both loving and despising Nick and Amy the whole way. As the reader, we see their relationship from its beginning to its much-altered present state, and their marriage seems to have gone very very rocky. Against the backdrop of Amy's disappearance, it was chilling at times, and so engrossing. Like I said, I seriously could not put this book down.
The pacing and characterization and manner in which characters reveal things about themselves are brilliant, because I was surprised by so much of it. Oh, I thought I had things figured out, and then I was blindsided (more than once). The secondary characters that factor into this book, from the small-town cops conducting their investigation to Nick's family and Amy's parents, are all so well-written and interesting, and I found myself scrutinizing everything that everyone said or did in an attempt to unravel this mystery.
I wish I had more to write, but it would just be a variation on 'I loved this book and you should read it', or plot spoilers that I'm trying to avoid! If you like a good mystery, you will love this book.