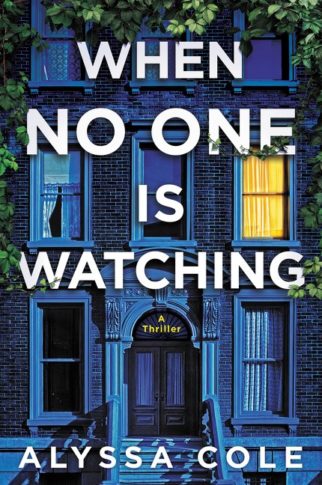 When No One Is Watching
By Alyssa Cole Source
Received from the publisher
Published by
HarperCollins Publishers
on September 15, 2020
Received from the publisher in exchange for an honest review. This does not affect my opinion of the book or the content of my review.
Rating:

Rear Window meets Get Out in this gripping thriller from a critically acclaimed and New York Times Notable author, in which the gentrification of a Brooklyn neighborhood takes on a sinister new meaning…

Sydney Green is Brooklyn born and raised, but the neighborhood she loves is being erased before her very eyes. FOR SALE signs are popping up everywhere, and the neighbors she's known all her life are disappearing. To preserve the past, Sydney channels her frustration into a walking tour: "Displaced: A People's History of Brooklyn," and finds an unlikely and unwanted assistant in one of the new arrivals to the block – her neighbor Theo.

But Sydney and Theo's deep dive into history quickly becomes a dizzying descent into paranoia and fear. Their neighbors may not have moved to the suburbs after all, and the efforts to revitalize the community may be more deadly than advertised.

When does coincidence become conspiracy? Where do people go when gentrification pushes them out? Can Sydney and Theo trust each other – or themselves – long enough to find out, before they too disappear – permanently?
This was one of my really highly-anticipated reads, and I read my e-ARC well in advance of the publication date because I just couldn't wait!
I really enjoyed this story. I could feel Sydney's paranoia, and the growing sense of unease and things being off kept me reading, needing to know what was going on.
Without spoiling anything, I will say that I quite liked this one but felt like it was all building to its finale which then felt rushed. It wasn't that it was an unsatisfying ending, but I think the pacing really threw me off because there was a lot going on at the end and it all felt like it was over very quickly.
But this was definitely a good page-turning thriller. Recommended!