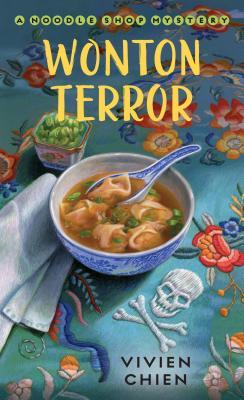 Wonton Terror
By Vivien Chien Series:
A Noodle Shop Mystery #4
Source
Purchased
Published by
St. Martin's Press
on August 27, 2019
Rating:

The Asian community is kicking off summer with the return of its popular Cleveland Night Market festivities, and Lana Lee is excited to represent the Ho-Lee Noodle House booth with her favorite chef, Peter Huang. Lana is confident that the evening marks the beginning of a great season to come. Not only is she looking forward to the warm temperatures, but her birthday is only weeks away, her handsome boyfriend, Detective Adam Trudeau, is planning a romantic get-away. Life couldn't be better.

But before she can get too accustomed to the idea of a carefree summer, an explosion involving a nearby food truck, Wonton on Wheels, kills one of the proprietors and injures several others in the nearby vicinity.

When the authorities discover that this was no accident, the family members of the dead man become the number-one suspects in a front-page murder story. Lana and her best friend, Megan Riley, fall back into detective mode. But as they uncover family secrets of abuse and angry costumers, Lana's own family drama raises its head. Will Lana be able to juggle everything the universe is throwing at her, or has she jumped from the frying pan to the fire?
I am not generally a cozy mystery reader, but I do enjoy this series and have been slowly working my way through it.
This book was a nice change of pace from the heavier, darker books I'd read recently. Wonton Terror is book four and was a solid story. I am enjoying this series more with each book, I think because I really enjoy Lana's family and also because I have liked seeing Lana become more involved in the family business.
I've already bought the next in the series am looking forward to it!