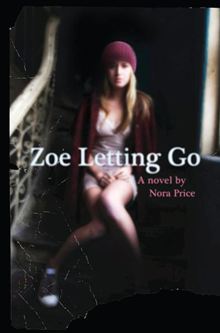 Zoe Letting Go
By Nora Price Source
Library
Published by
Razorbill
on June 14, 2012
Rating:

A girl's letters to her best friend reveal two lives derailed by anorexia in this haunting debut that's Laurie Halse Anderson's Wintergirls meets The Sixth Sense.

Zoe knows she doesn't belong in a hospital—so why is she in one?

Twin Birch isn't just any hospital. It's a strange mansion populated by unnerving staff and glassy-eyed patients. It's a place for girls with serious problems; skinny, spindly girls who have a penchant for harming themselves.

Zoe isn't like them. And she can't figure out why she was sent here. Writing letters to her best friend Elise keep her sane, grounded in the memories of her past—but mired in them, too. Elise never writes back.

Zoe is lost without her, unsure of how to navigate tenuous new friendships and bizarre rules without Elise by her side. But as her letters intertwine with journal entries chronicling her mysterious life at Twin Birch, another narrative unfolds. The hidden story of a complicated friendship; of the choices we make, the truths we tell others, and the lies we tell ourselves. The story of a friendship that has the potential to both save—and damage beyond repair. And Zoe finds she must confront the truth about her past once and for all, before she can finally let go.

Nora Price's debut novel is a heart-wrenching meditation on the bonds of friendship with a gripping psychological twist.
I borrowed this from the library, and when I went to the Kobo store to check out its summary for this post, I saw that it costs $11.99 to buy. Boy, I am saving so much money by borrowing books from the library instead of purchasing every book I read!! I am so thankful for my library card!
As the summary above says, if you liked Wintergirls by Laurie Halse Anderson (I definitely did), this book will probably appeal to you.
Zoe is brought to Twin Birch by her mother, but is confused about what she's doing there. There are five other girls there, and Zoe quickly notices that they're all very skinny, and exhibit the signs of an eating disorder. Her suspicions are soon confirmed: she's at a treatment centre for girls with eating disorders, and she will be there for her entire summer vacation. She has to turn in her cell phone, attend cooking classes, clean her plate at every meal no matter what or how much food is served to her, and meet regularly with a therapist.
Zoe is confused, though – sure, she's thin, but she certainly doesn't think she's anything like the other girls there, who are so tiny and frail and anorexic. Zoe watches what she eats, but she's not disordered. Right?
Part of what I really liked about this book was that the chapters are blended with Zoe's letters to her best friend, Elise. These letters reveal a lot about Zoe's disorder and her outlook on things. I liked that they helped me get to know Zoe better, and that they shed a lot of light on her friendship with Elise, something she was very reluctant to address in her therapy sessions.
I think anyone who is remotely paying attention will be able to predict some aspects of the story that are purposely held back until the end, but I have no complaints about this book. I really liked it – I kept telling myself I would finish my current chapter and then put the book down, but inevitably kept reading well beyond the time I intended to stop. I wanted Zoe to heal and address the things that she kept avoiding in order to be able to get better and move on. I also sympathized with her – much of what Zoe discussed, in terms of anxiety and fear of embarrassment, really struck a chord with me because I saw that in myself; I related to her in many respects.
I definitely recommend this book, if you like contemporary YA fiction with a bit of a twist.