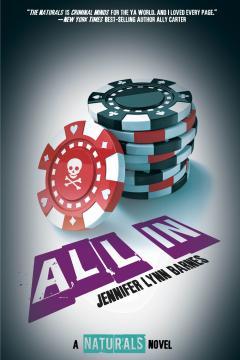 All In
By Jennifer Lynn Barnes Series:
The Naturals #3
Source
Library
Published by
Disney-Hyperion
on November 3, 2015
Rating:

Cover image and summary from Goodreads:

Three casinos. Three bodies. Three days.

After a string of brutal murders in Las Vegas, Cassie Hobbes and the Naturals are called in to investigate. But even with the team's unique profiling talents, these murders seem baffling: unlike many serial killers, this one uses different methods every time. All of the victims were killed in public, yet the killer does not show up on any tape. And each victim has a string of numbers tattooed on their wrist. Hidden in the numbers is a code—and the closer the Naturals come to unraveling the mystery, the more perilous the case becomes.

Meanwhile, Cassie is dealing with an equally dangerous and much more painful mystery. For the first time in years, there's been a break in her mother's case. As personal issues and tensions between the team mount, Cassie and the Naturals will be faced with impossible odds—and impossible choices.
This is book three in The Naturals series (see my reviews of books one and two), which is kind of like a YA 'Criminal Minds'. I've enjoyed both of the previous books in this series, and was excited to read this next instalment.
This time around, the team is on location in Las Vegas, which was really fun! This story incorporates an FBI case – the team is no longer working exclusively on cold cases – with the mystery of what happened to Cassie's mother, and I was excited to get more information about that.
I really liked that there was more of a focus on Sloane and her past in this story, since she's my favourite of the Naturals, and that there wasn't too much of a focus on Cassie's romance with Dean. At this point, it felt like there was no confusion between Cassie and Dean and how they felt about each other – they were together and it was nice.
I really like all of the Naturals – Cassie, Sloane, Dean, Lia, Michael, agents Briggs and Sterling, and Judd – and I really enjoyed learning more about them in this book.
There is a fourth book coming out in November, and given the major developments that took place in All In, I'm really looking forward to reading it! I definitely recommend this series for mystery fans.