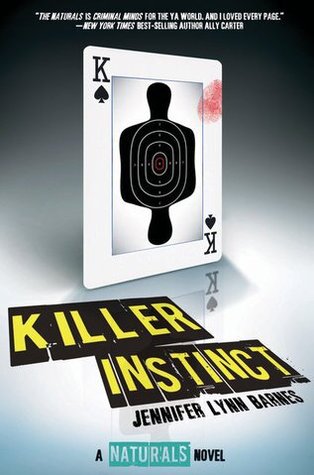 Killer Instinct
By Jennifer Lynn Barnes Series:
The Naturals #2
Source
Received from the publisher at BEA
Published by
Disney-Hyperion
on November 4, 2014
Received from the publisher at BEA in exchange for an honest review. This does not affect my opinion of the book or the content of my review.
Rating:

Cover image and summary from Goodreads:

Seventeen-year-old Cassie Hobbes has a gift for profiling people. Her talent has landed her a spot in an elite FBI program for teens with innate crime-solving abilities, and into some harrowing situations. After barely escaping a confrontation with an unbalanced killer obsessed with her mother's murder, Cassie hopes she and the rest of the team can stick to solving cold cases from a distance.

But when victims of a brutal new serial killer start turning up, the Naturals are pulled into an active case that strikes too close to home: the killer is a perfect copycat of Dean's incarcerated father—a man he'd do anything to forget. Forced deeper into a murderer's psyche than ever before, will the Naturals be able to outsmart the enigmatic killer's brutal mind games before this copycat twists them into his web for good?

With her trademark wit, brilliant plotting, and twists that no one will see coming, Jennifer Lynn Barnes will keep readers on the edge of their seats (and looking over their shoulders) as they race through the pages of this thrilling novel.
I read and enjoyed The Naturals last year, and I was looking forward to reading this sequel. When I picked this up, I was in the mood for something twisty and fun, and when I remembered that I enjoyed its predecessor, I decided to read Killer Instinct.
I read this book in a single day. It was the kind of book I started on a lazy Sunday morning and found myself not wanting to put down before I finished. As with The Naturals, I really liked the use of profiling and other abilities in this story. The mystery was fun to try and solve, and the story was well-paced. I don't think I realized when I read the first book how much I cared about the characters, so I was surprised at how happy I was to be reading about them again.
There was an element of this story that reminded me of Barry Lyga's Jasper Dent series (I Hunt Killers, Game, and Blood of My Blood). I love that series, and so the thing that reminded me of the Jasper Dent series was something that I found really interesting. If you want to know what I'm talking about, highlight the rest of this paragraph; otherwise, skip ahead to the next paragraph. Spoiler alert for Killer Instinct and maybe minor spoilers for the Jasper Dent series: Dean and his interactions with his incarcerated-serial-killer-father reminded me a lot of Jazz's relationship with his incarcerated-serial-killer-father, including the way his father was possessive, controlling, and perhaps had hopes for his son to commit similar violent acts.
As with The Naturals, I really didn't care for the love triangle in this book. I would actually have been more interested to read more about Cassie's relationships with Lia and Sloane, the other girls in the house.
Overall, this was a fun, twisty read and I'm really looking forward to reading the next book, All In. Recommended!