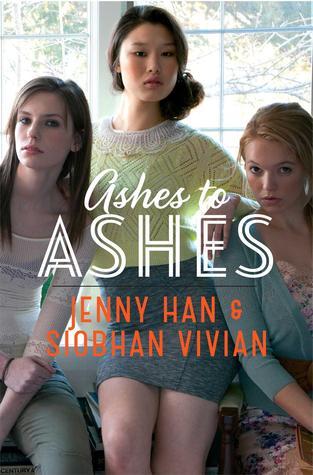 Ashes to Ashes
By Jenny Han, Siobhan Vivian Series:
Burn For Burn #3
Source
Borrowed ARC
Published by
Simon & Schuster
on September 16, 2014
Rating:

Cover image and summary from Goodreads:

New Year's Eve ended with a bang and Mary, Kat and Lillia may not be prepared for what is to come.
After Rennie's death, Kat and Lillia try to put the pieces together of what happened to her. They both blame themselves. If Lillia hadn't left with Reeve... If Kat had only stayed with Rennie... Things could have been different. Now they will never be the same.
Only Mary knows the truth about that night. About what she is. She also knows the truth about Lillia and Reeve falling in love, about Reeve being happy when all he deserves is misery, just like the misery he caused her. Now their childish attempts at revenge are a thing of the past and Mary is out for blood. Will she leave anything in her wake or will all that remain be ashes?
Overall, I really enjoyed reading this book. Spoiler alert if you haven't read the first books in this series (Burn for Burn and Fire with Fire), and some spoilers for this book as well.
I loved watching how Mary became more dangerous as she realized the truth about herself, and saw what was happening between Lillia and Reeve. It definitely gave the story some suspense! And it was nice to get some answers as to why some people had been able to see/communicate with Mary. AND the scene where Lillia realizes Mary's dead, and is confronted by Mary, was awesome!
I think one of my favourite things about this book was finally getting a glimpse into Reeve's head, and seeing what his family was like and what his reaction was to learning about Mary's death all those years ago. It did impact him, and I really appreciated getting some sense of who Reeve was outside of the love interest/revenge target.
In the end, after Mary goes into full-on revenge mode, her realization about her own life and death let her save Reeve, Kat, and Lillia, which seems to be what finally allowed her to move on. I was happy that Mary didn't need to be taken down ghostbusting-style, and instead didn't blame anyone for her actions and found peace.
There was also a bit of an epilogue from Lilla's perspective, after high school. It was bittersweet because she and Reeve didn't stay together – they didn't even seem to keep in touch, and I'd actually been rooting for them. I was sad that football didn't work out for Reeve, but I wasn't expecting that Lillia would end up with Alex. It was a nice surprise. I was also sad to learn about Kat's dad, but New York seemed to be her kind of place. I could picture her happy there.
The only downside to this book (other than my Lillia-Reeve ship sinking) was that I felt that the ending was pretty rushed. I would have liked it more if had been drawn out and taken more time to resolve things. Also, I would liked a little epilogue from Kat's perspective, like we had from Lillia. Otherwise, I found Ashes to Ashes to be a really satisfying conclusion to the trilogy.
I really love this series, and I absolutely loved that it took an unexpected turn towards the paranormal. I really really really recommend this series!