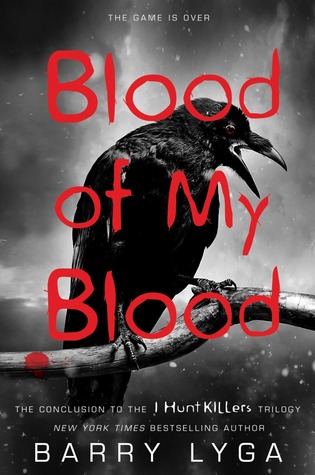 Blood Of My Blood
By Barry Lyga Series:
Jasper Dent #3
Source
Received from the publisher via Netgalley
Published by
Little, Brown
on September 9, 2014
Received from the publisher via Netgalley in exchange for an honest review. This does not affect my opinion of the book or the content of my review.
Rating:

Cover image and summary from Goodreads:

Jazz Dent has been shot and left to die in New York City. His girlfriend Connie is in the clutches of Jazz's serial killer father, Billy. And his best friend Howie is bleeding to death on the floor of Jazz's own home in tiny Lobo's Nod. Somehow, these three must rise above the horrors their lives have become and find a way to come together in pursuit of Billy. But then Jazz crosses a line he's never crossed before, and soon the entire country is wondering: "Like father, like son?" Who is the true monster?

The chase is on, and beyond Billy there lurks something much, much worse. Prepare to meet...the Crow King.
Spoiler alert if you have not yet read the first two books in the series, I Hunt Killers and Game.
This was a book I'd been very eagerly anticipating. I loved the first two books in the series, and I had to know how Jazz's story would end!
Barry Lyga didn't waste any time letting the reader know how Jazz, Connie, and Howie were doing – thank goodness! All three of them were in mortal peril at the end of Game, and I was desperate to see if they would all survive.
So much of Jazz's story has been connected to his father, notorious serial killer Billy Dent. While Billy is even more of a menacing figure in this book than he's been before, I appreciated getting to learn more about Jazz's mother in this book. I won't say anymore for fear of spoiling the story, but learning more about Jazz's mother shed some light on things I had long been wondering about.
This was definitely a book that I couldn't put down. I loved the writing and the characters of Jazz, Connie, and Howie, and I was happy to see the return of some minor characters like G. William. I was fascinated and repulsed at the same time by the skewed world view / mind set of the killers. Billy Dent is fictional, but his view of the world, other people, and his role was interesting reading, and as someone with a degree in criminology, I found myself very curious to know about the research that went into a character like this – because surely there are people who see things the way Billy does, which is terrifying.
I did find myself wanting to know more about the Crows. It felt like there had been a lot of build up and mystery surrounding them, but I wasn't totally satisfied with the reveal (the Crow King is a different story, though – I liked that reveal!).
Overall, this was a great end to the series: exciting, with bittersweet and downright heartbreaking moments, and it shed light on things that, as a reader, I'd been wondering about since the very first book.
I definitely recommend this series for readers looking for a fast-paced, exciting thriller.