By Cynthia Hand
Source: Library
My Rating: 4 / 5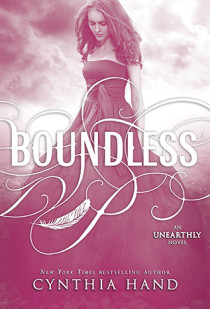 I have really enjoyed the first two books in this series, and was eagerly looking forward to this finale. Here is the Goodreads summary:
The past few years have held more surprises than part-angel Clara Gardner could ever have anticipated. Yet from the dizzying highs of first love, to the agonizing low of losing someone close to her, the one thing she can no longer deny is that she was never meant to live a normal life.

Since discovering the special role she plays among the other angel-bloods, Clara has been determined to protect Tucker Avery from the evil that follows her . . . even if it means breaking both their hearts. Leaving town seems like the best option, so she's headed back to California – and so is Christian Prescott, the irresistible boy from the vision that started her on this journey in the first place.

As Clara makes her way in a world that is frighteningly new, she discovers that the fallen angel who attacked her is watching her every move. And he's not the only one. . . . With the battle against the Black Wings looming, Clara knows she must finally fulfill her destiny. But it won't come without sacrifices and betrayal.

In the riveting finale of the Unearthly series, Clara must decide her fate once and for all.
I've really liked reading the first two books, Unearthly and Hallowed, and was excited to read this book but also apprehensive, since it would mean the end of the series.
I really wasn't sure how the love triangle was going to be resolved. I love Tucker, but Clara and Christian have been so connected that I couldn't overlook the possibility that Clara would choose him over Christian. I don't really like love triangles when they seem to exist just to exist, but in this series, I could see how Clara would be drawn to each of them.
I loved seeing Clara, Christian, and Angela try to settle in at Stanford and live as regular people. I was also really curious to see what was happening with Jeffrey, Clara's younger brother. There's definitely been the sense that he was up to something or hiding something throughout this series, and I couldn't wait to get to the bottom of it.
I loved reading about Clara developing her abilities, e.g. training with a glory sword. I also liked having Michael appear in the story.
It was pretty neat to see the way everyone's visions came to pass – Angela, Christian, and Clara – and it all happened in a way that I couldn't predict. This book was definitely bittersweet, but I really liked seeing the way all of the characters were connected.
I'm happy with the way the series wrapped up. Clara and the others went through a lot, and there were some sad moments (I was almost in tears near the end!), but overall, I was pleased with this book – with two exceptions. Highlight the rest of this paragraph to read one (spoiler alert): I didn't like the way Christian professed his love and then, when he realized Angela and Tucker were going to be together, seemed to have just disappeared from her life, mentioned in the epilogue as an afterthought almost. Don't get me wrong, I'm happy that Clara ended up with Tucker, but I liked Christian as a character, and would have liked for a better ending for him. (End of spoiler)
Another thing that I didn't love was that I couldn't help but feel that I was missing something as I read. There were all these hints about Angela and Clara and their trip to Italy over the summer, and I was so confused, wondering if I had somehow skipped a chapter or forgotten something crucial from the previous book. Then I started to worry that I had missed a book in the series – was that possible? Well, sort of. Turns out there was an e-book novella, Radiant, that came out between Hallowed and Boundless. It made sense, then, why I couldn't shake the feeling that I had missed some background info, because it turns out I had. Look, I understand that there are novellas out there and people like them, but I prefer them as optional or bonus content, like the Lying Game novella I read earlier this year, The First Lie, which was a mini prequel to events of the main series. Because the summer in Italy was referenced so much in this book, I was frustrated and think that if information is going to be crucial to the main storyline, it should be in the book, not the novella.
Other than all that, though, I really liked this book. And eventually I got a sense of what had happened in Italy (but it was over 100 pages into the book), so it all turned out fine in that regard.
The finale of this book had me reading as fast as I could! Everything came to a head: Samjeeza, Jeffrey's strange behaviour, Clara and Christian's visions, and more that I won't mention so as not to give anything away.
I hadn't really heard of this series until a few months ago, but now I'm so glad that I read it. I definitely recommend it!