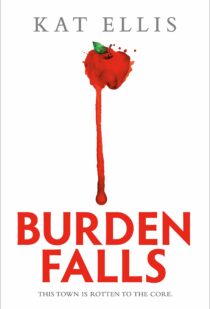 Burden Falls
By Kat Ellis Source
Purchased
Published by
Dial Books
on August 24, 2021
Rating:

The town of Burden Falls drips with superstition, from rumors of its cursed waterfall to Dead-Eyed Sadie, the disturbing specter who haunts it. Ava Thorn grew up right beside the falls, and since a horrific accident killed her parents a year ago, she's been plagued by nightmares in which Sadie comes calling—nightmares so chilling, Ava feels as if she'll never wake up. But when someone close to Ava is brutally murdered and she's the primary suspect, she begins to wonder if the stories might be more than legends—and if the ghost haunting her dreams might be terrifyingly real. Whatever secrets Burden Falls is hiding, there's a killer on the loose . . . with a vendetta against the Thorns.
I was excited about reading this because I really enjoyed Harrow Lake (if you love YA thrillers / horror and haven't read that one yet, you should!).
But Burden Falls felt strange and disjointed to me and I couldn't totally get into it. I felt like I never really understood things like why Ava and Ford were friends, or bought into the rivalries between her family and the Millers.
I liked how twisty this was towards the end, and the enemies to lovers type of romance blossoming between Ava and Dominic, but this one was just ok for me.